Hello again, Creative Tonics!! I'm SO excited to share a long-awaited update with you PLUS a behind-the-scenes look at my recent courtyard revamp!! This spring Beth Holman, President + CEO of Sanderson USA, approached me about collaborating with Morris + Co. + reimagining my outdoor terrace + dining courtyard in their newly launched outdoor fabrics. I was THRILLED + jumped at the chance to revisit my Decorative Arts background. (I studied 19th and 20th Century Decorative Arts at Sotheby's in London years ago + was bitten by the interior design bug when I visited William Morris's personal home, Kelmscott Manor.) So, the opportunity to collaborate with Morris & Co. on this amazing project was a personal FULL-CIRCLE MOMENT for me!!
I remodeled the front yard of my home by adding on a covered terrace + dining courtyard with the help of architect Michael Landrum, wrapping up in early 2020 just as Covid hit. This space became our family's savior + a beautiful escape during the pandemic. However, we never found that SPECIAL piece of art for the outside wall of our home that serves as the backdrop to the dining table. This expansive space, a large white stucco wall, was screaming for something BIG + AMAZING but Mark (my husband AKA Mr. Creative Tonic) + I never came across anything that WOWED us.
So, when this opportunity with Morris & Co. arose, I DUG DEEP for inspiration as to just how I could enhance my dining courtyard wall. I'd recently been to Paris Deco-Off in January of 2023 and while there I visited the historic Lanvin store. Needless to say, I was ENCHANTED by the carved fresco adorning the original stairs in the boutique on Rue Faubourg St. Honore — it is TRULY breathtaking!! And that was it — my terrace wall needed to become a work of art in plaster inspired by my first design love, William Morris himself, to feel COMPLETE!!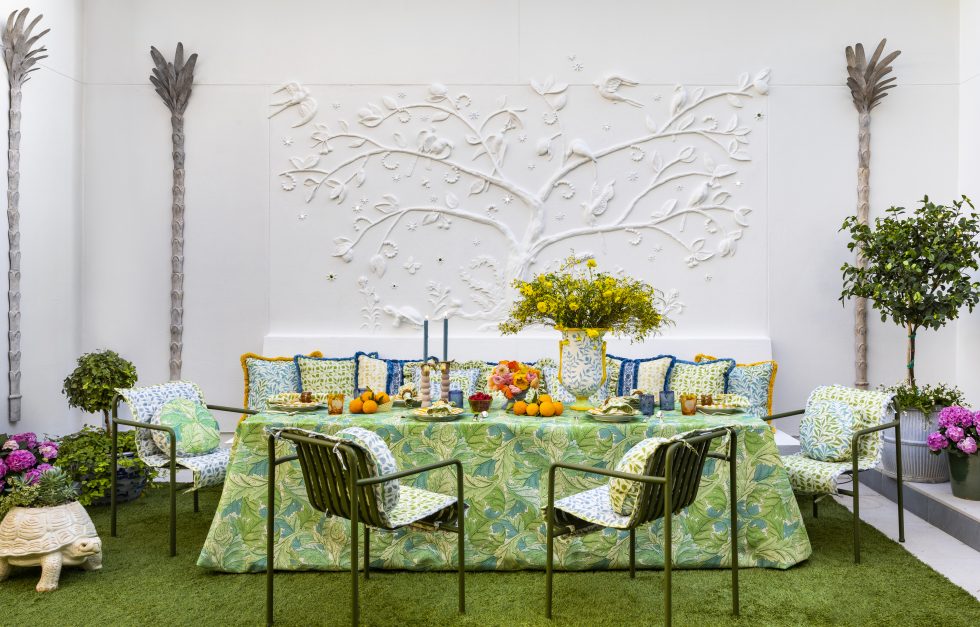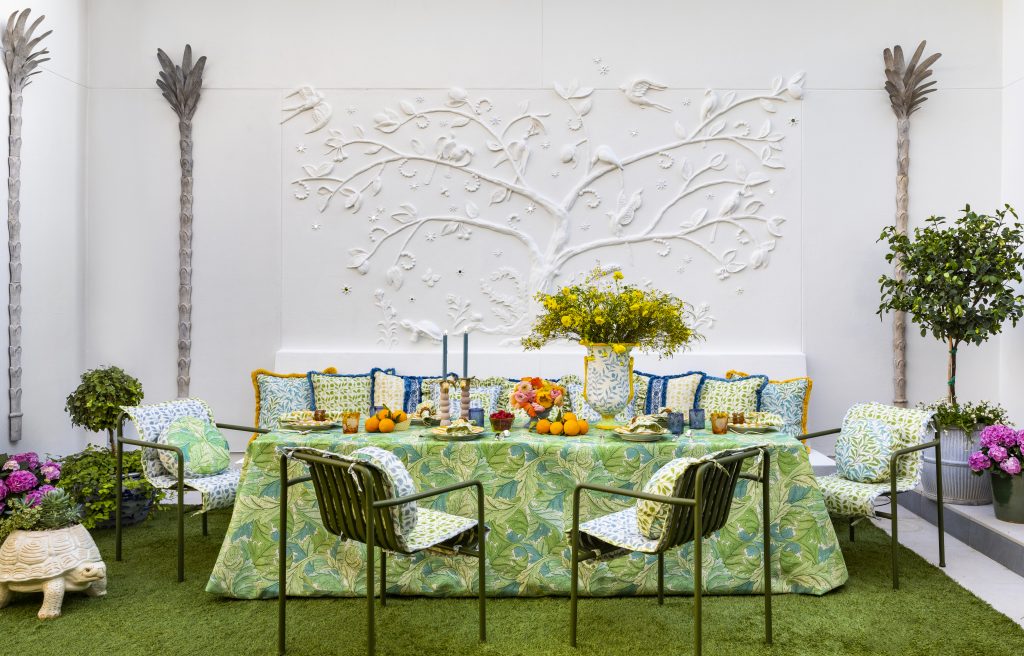 Naturally, I immediately reached out to Leslie Sinclair with Segreto Finishes; together with her team of sculptors + artisans, we brought my vision of a highly personalized + stylized "Tree of Life", well, TO LIFE!! Calling to mind one of the motifs common in the English Arts & Crafts movement seemed a natural fit for a project involving William Morris's legacy as it is inextricably linked with the movement itself. When I called Leslie, she too was excited about the idea + inspiration + launched right into researching the Lanvin carved fresco. She + her team have done quite a few sculptural art installations over the years, but Leslie knew this one would be different in that it was on an exterior stucco wall. She said that after doing some research, "a better interpretation … would be to cast decorative elements + apply them to the existing wall" + Mark and I were ALL IN!!
Leslie + the Segreto team executed the details of the idea — the stylized leaves, my FAVORITE fruits, a nod to my Kips Bay Decorator Showhouse Dallas room, symbols representative of my family + more — with SUCH artistry + vision + on a VERY tight schedule, no less!! The whole process was FASCINATING!! (Hop over to my Instagram to see a fun behind-the-scenes video of the process!!) The team took our inspirations + sent five different renditions from two of their artists for us to select from. We opted to take a few elements from several of the sketches; Leslie + her team then hand-drew the artwork to scale + we met with them to add, delete + alter a few things on the spot. They were even able to add in my wish for stars that SPARKLE by embedding mirrors into the center of the stars!! Once we'd settled on a design, Leslie + her Segreto team were OFF!! In speaking to Leslie after we'd crossed the finish line, she noted that a project of this magnitude would typically take TWO MONTHS, but we only had NINE DAYS to install before the Morris & Co. photoshoot!!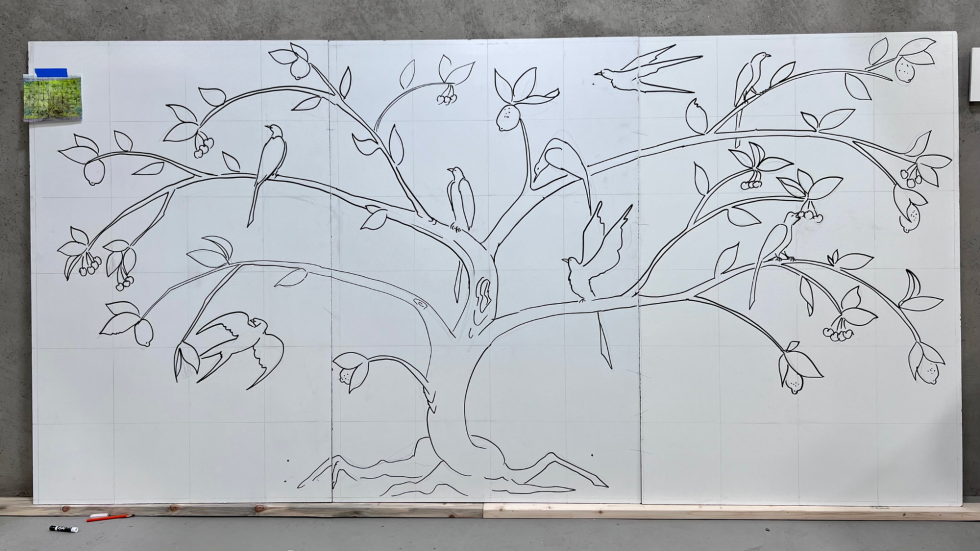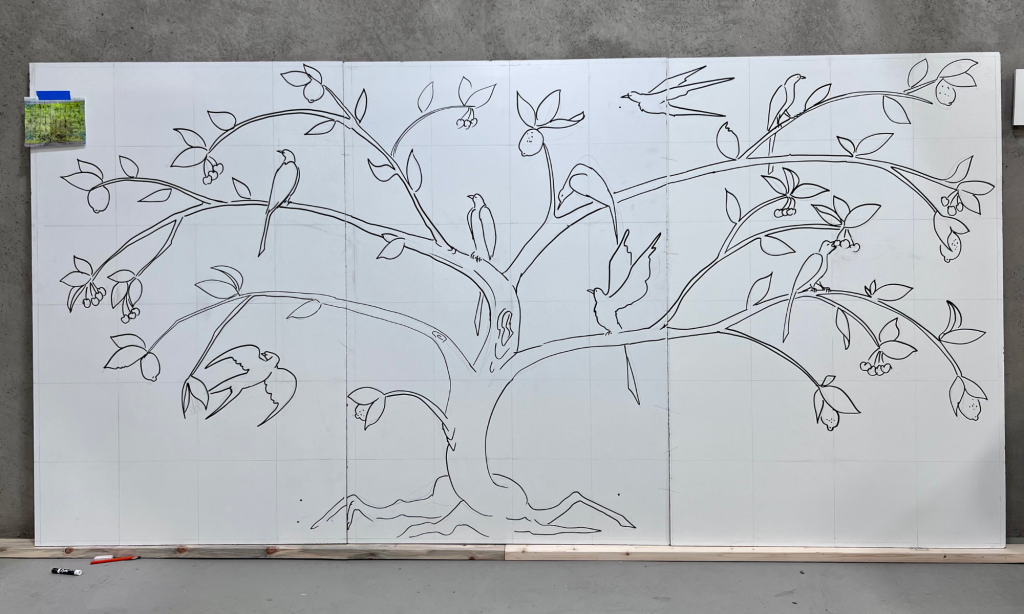 Each element was sculpted from clay, with Leslie noting that "a staff of four sculptors were working literally around the clock. As they finished individual elements, [Segreto's] operations team built forms for each piece to form a structure in which a special silicone liquid material could be poured over the clay. When this hardens, the clay is removed, leaving a mold to cast each tree of life piece from resin — a material which can hold up to the exterior elements." Holding up to the elements was a BIG concern when tackling this project, but her team BRILLIANTLY problem-solved + we pushed forward!! Each piece of resin was then sanded, primed + painted … then came the install … IN THE RAIN!! Leslie's team worked under a tent to adhere each piece to the wall, fill the seams of the connecting individual pieces + craft it all into one large seamless sculptural art piece.
The result is such a UNIQUE snapshot of my life, my work + my past inspirations + it serves as a daily reminder of the CREATIVITY + TALENT I'm so honored to surround myself with. Chatting with Leslie about the project AFTER it was all done, she said "I was so proud of my team pulling together to get this done for such a special client of ours. Late nights, full weekends, [and] we even drove to Dallas on a Friday night to pick up more materials for the molds! I loved the excitement of Courtnay + Mark who put a bit of their romance + fun nature into the piece. Seeing it come together + then actually to life on the walls + loving how it transformed their outdoor space was MAGICAL. I loved seeing it at night when Courtnay so gracefully held an event for the launch of the Morris & Co. outdoor fabric line — the mirrors in the stars did glisten!"
Leslie, I am CONTINUALLY in awe of you + your team's talent + SO HONORED that you'd jump into this project with me!!
And speaking of FULL-CIRCLE moments … I'm headed back to LONDON for a FABULOUS trip at the end of the month with the Grande Dame of Creative Tonic (AKA my dear mother)!! We're celebrating a milestone birthday for her + I could not be more excited to share our trip with you when we return!! Until then, a few of the things we're most excited about …
We're going to be hitting the shops with Lady Alice Manners, who is possibly the most chic stylist around!! She's the daughter of the Duchess of Rutland + grew up at Belvoir Castle — impossibly cool — with her two sisters. I can't wait to show you our sure-to-be FABULOUS finds!! In the meantime, I've put together some William Morris + Segreto + patio-inspired goodies to satisfy all of your shopping fancies, Creative Tonics!! Can't wait to catch up after London … cheerio!!