Welcome back, Creative Tonics!! We sure have been BUSY since my last update, and I'm THRILLED to be sharing a bit of what has been INSPIRING our creativity + bringing us JOY over the past few months!! Read on for details about my upcoming talk at Texas Design Week Houston + some of my favorite tips, tricks + recommendations for my FAVORITE city in the world – Paris!! Plus, as always, I'm sharing a few shoppable treats + these will instantly transport you to the City of Lights!!

Color + Science = BRILLIANCE!!
Texas Design Week is NEXT WEEK + I could not be MORE EXCITED to speak about one of my passions – COLOR!! – and the fact that I have the opportunity to speak with a few lovely design icons is truly the cherry on top!! Tap HERE to register for our talk on Wednesday, May 3rd from 1 – 3 pm in the First Floor Gallery of Decorative Center Houston!
The harlequin (see what I did there?!) path to this DREAM panel is a full circle moment for me … London based Sanderson Design Group, parent company to Sanderson, Harlequin, Zoffany, + Morris & Co. amongst others, has been a favorite of mine for YEARS. When my decorative arts career began in London at Sotheby's, one of my first  experiences was going to the countryside and visiting Kelmscott Manor, the stunning home of William Morris.
Morris himself is credited with helping to revive British textile arts, and he was deeply connected to the Arts & Crafts movement. Kelmscott Manor is where it all came together for me – I had an EPIPHANY of sorts – realizing that EVERYTHING in that captivating space had meaning – from the plates to the forks, the wallpaper to the decor. Truly, I understood on a deeper level what vertical design meant – it isn't only about your environment, but also how you live your life within it, completely integrated together. The entire experience led me to understand that my childhood spent surrounded by color and pattern had driven me directly to that very special moment. 
All of this brings me to my most recent full-circle moment … Sanderson's Morris & Co. will be debuting their outdoor line OH-SO-SOON and they tapped me to redesign my courtyard with their fabrics. I promise to share the full experience with you as soon as I can but in the meantime, here's a colorFULL little sneak peek…

Next week, I have the absolute PLEASURE of partnering with Sanderson's Harlequin team to explore one of my very favorite topics…COLOR!! More specifically, The Science of Color. Stephen Westland, Professor of Colour Science at Leeds University, has published a multitude of articles about color, color design, and color science. Sanderson Design Group's Creative Director, Claire Vallis, myself, and Houston designer and partner in Moxie, Dennis Brackeen, will be chatting about ALL THINGS COLOR + the science behind it. From the ways color impacts how you feel in a space, to why we're drawn to specific palettes, we'll be covering it all!!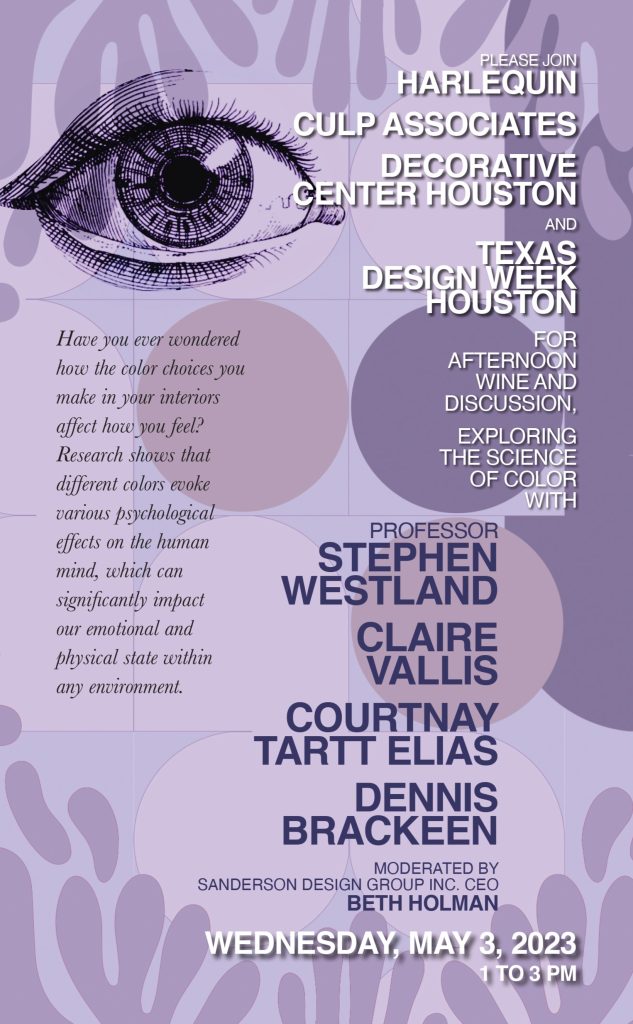 I look forward to sharing how the color story of the homes I grew up in impacted my KALEIDOSCOPIC use of color today. A childhood FILLED with homes BURSTING with giant flowers and carpets in hot pinks, greens, oranges + so much more sparked a passion for design in me very early on! My journey began with designing my VERY OWN bedroom which evolved from pink and white polka-dot curtains to lavender walls, to the addition of a vibrant green. Incremental changes to color + pattern were the hallmarks of my early foray into decorating.
Color weaves its way into my story in a myriad of ways and I've always felt that the most important element of any color is how it makes you FEEL! I can't wait to dive into all of this and more next week!!
Speaking of FEELINGS…Let's Take a Little Journey to the City That ALWAYS Brings Me JOY

Creative Tonic has been ON THE MOVE since we last checked in!! I headed to Paris for Deco Off where I spent a few days soaking up ALL of the inspiration so that I could bring it back to YOU!! Some of my FAVORITE haunts in Paris are now more popular than ever – a lovely, if somewhat sad, side effect of the world growing smaller, it seems – but my recent trip back to The City of Love (my absolute FAVORITE city in the universe!!) granted me the opportunity to find a few NEW favorites!!
With that in mind, we're sharing a few of my latest can't-miss moments in Paris – a brief ColorFULL City Guide, if you will, with the hope that you find as much joie de vivre in these DREAMY + EXCITING spots as I do!! 
Where to STAY
An abiding love of the Left Bank led to my recent discovery of a new apartment hotel – Esprit Saint Germain. Its ideal location + FUN atmosphere make it a NEW must-stay when in Paris!! Don't skip the Library Lounge for a relaxing boisson l'apres-midi!! 22 Rue Saint-Sulpice, 75006 Paris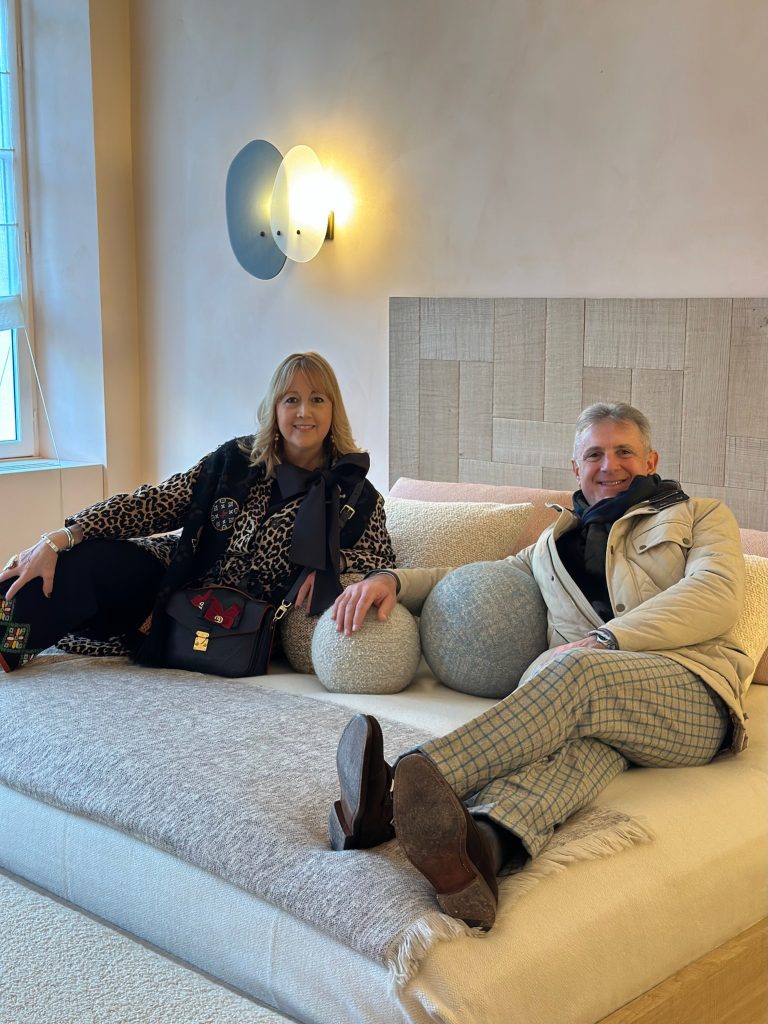 Where to SHOP
There is SO much shopping to be done in Paris!! From home goods to clothing, to the department stores that have a little bit of both, you'll always find SOMETHING you can't leave behind!! And don't forget to carve out time for a visit to the flea markets — I took home OODLES of Zuber wallpaper + couldn't be more thrilled with my finds!!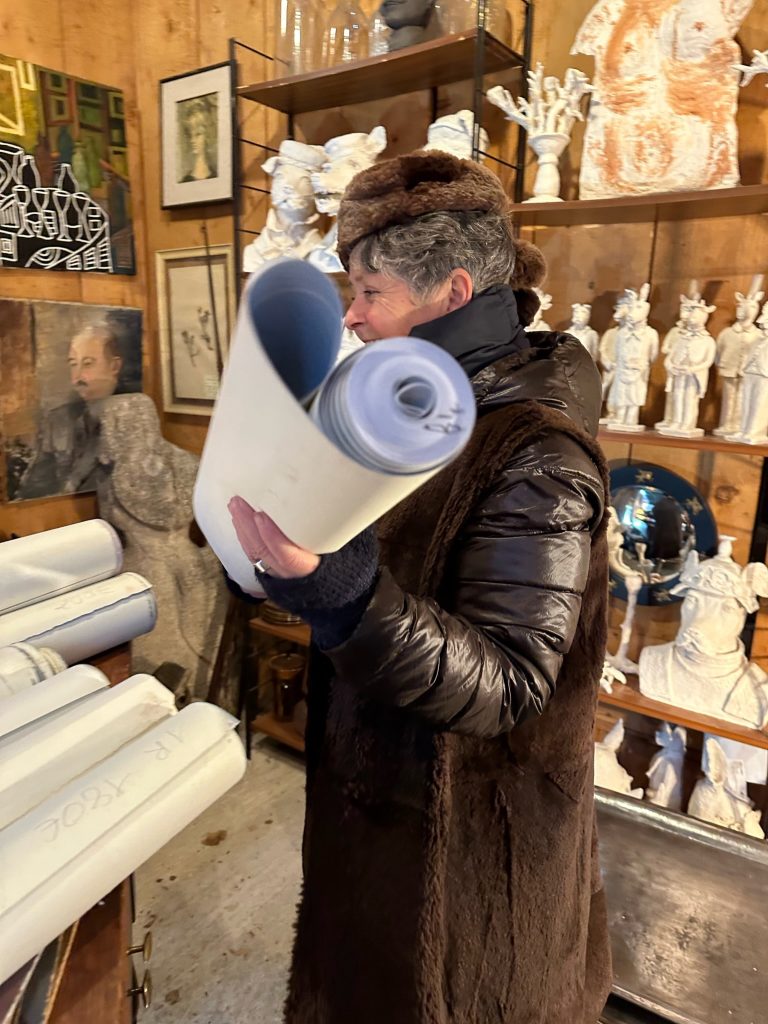 Shopping Courrèges is like going home to the mothership!! Some may remember the tiny Houston Courrèges boutique from the 70s + may have even had similar experiences watching their moms try on the mod, streamlined, architectural-chic clothing the brand is so well known for. Don't leave without a colorFULL vinyl jacket or camera bag! (Shop my faves below!!) 40 rue François Iᵉʳ, 75008 Paris
Lanvin is an old-school cool French designer that gets it ALL right. The original Lanvin store was recently renovated, and I SOAKED up the inspiration + picked up a few FABULOUS purses on sale!! Corner of 16 rue Boissy d'Anglas and 22 rue du Faubourg Saint-Honore, 75008 Paris
Samaritaine, an always groundbreaking department store, recently underwent a full refurbishment, bringing its whiplash avant-garde architecture new life via restoration with the addition of new modern architectural elements. One of the most amazing aspects of the restoration – the EIGHT years of work that brought it all to live have been chronicled via a STUNNING book! In addition to carrying all of the iconic French brands, Samarataine is home to La Boutique De LouLou, featuring more up-and-coming designers + brands! Some of my favorites are linked below!! 9 Rue de la Monnaie, 75001 Paris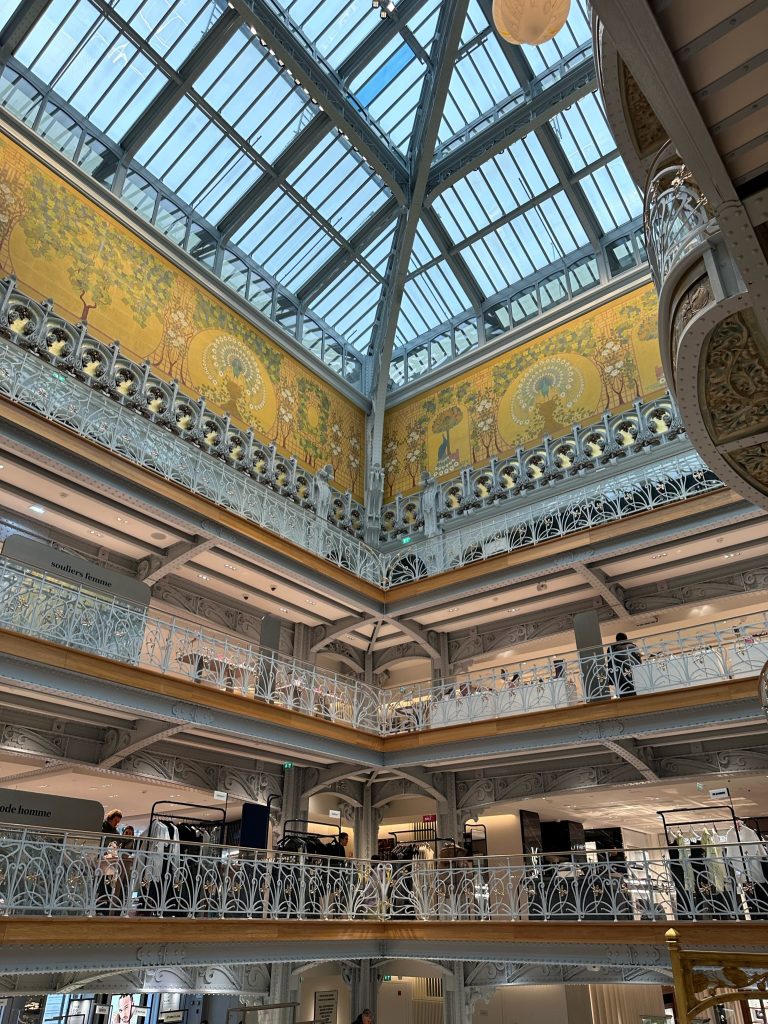 A dynamo of an owner + her INCREDIBLE eye for brilliance makes Rouge Absolu an absolute FAVORITE!! Keep your eye out for the home goods + wallpaper she's curated + the personal accessories are superbe!! 3 Rue des Saints – Pères, 75006 Paris
Is a trip to Paris complete without a stop at de Gournay? I think not!! A breathtaking private appointment alongside a few other designers during Paris Deco Off thanks to our dear friends at Culp Associates (merci beaucoup!!) further cemented my love of the brand's artful wallpaper. Pop in when you visit Rouge Absolu, as they're just a block or so away from one another! 15 Rue des Saints – Pères, 75006 Paris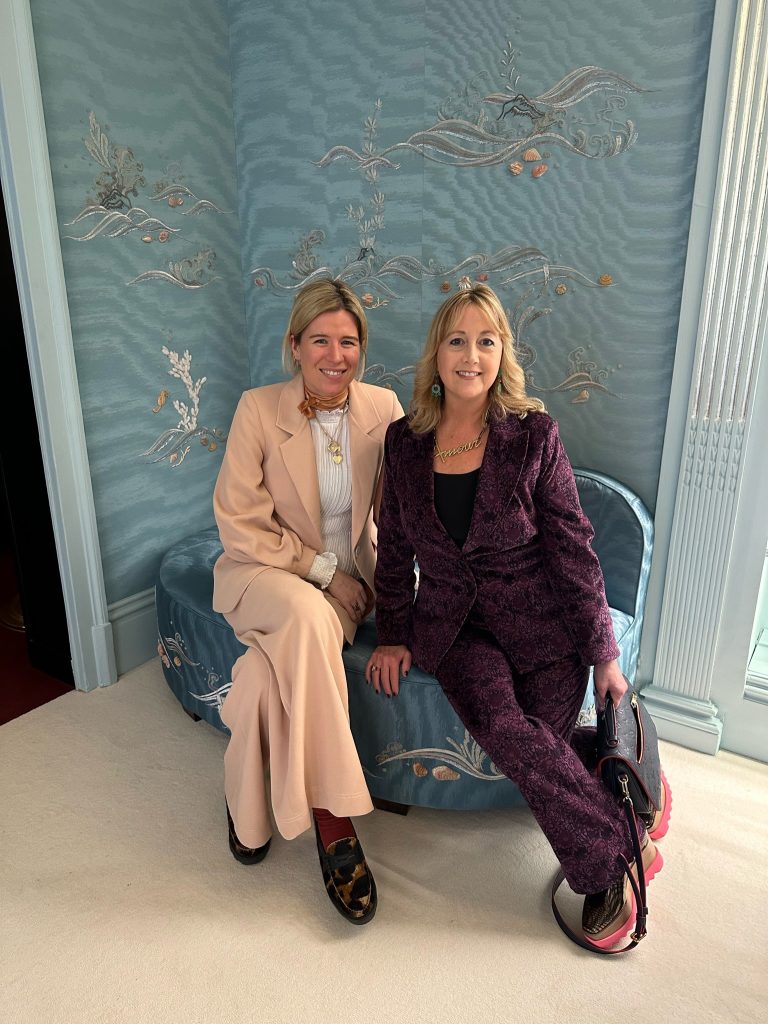 Another old-guard, mainstay French maison, Hermès, is upping its innovation game!! The flagship boutique is home to a very special section where the artisans and craftsmen are allowed to use the extras, the scraps, from the line's production, to create one-of-a-kind items and art pieces that are for sale ONLY at that boutique!! The creativity is a sight to behold – from an intricate puzzle box to bracelets made of scarves, there's something for everyone!! 17 Rue de Sèvres, 75006 Paris
Where to DINE
Whether you're looking for a traditional bistro meal, a super chic/swanky dinner, or a night of FUN, Paris has you covered!!!
An enduring favorite, Auberge Bressane NEVER disappoints. It might be unassuming, with a neighborhood locale kind of feel, but the pomme frites are the BEST in Paris!! 16 Av. de la Motte-Picquet, 75007 Paris
La Fontaine de Mars always hits the spot when you want a bistro meal. One MUST order the chicken breast with morels and cream sauce. Pro Tip: copious amounts of Dijon mustard are de rigueur!! (If you can't make it to Paris anytime soon, tide yourself over with their cookbook, linked below!!) 129 Rue Saint-Dominique, 75007 Paris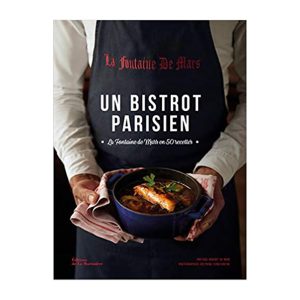 Last, but certainly not least, on the Creative Tonic list of best bistros, Chez Ferdnand! The beef bourguignon is LEGENDARY, as is the escargot, and the ambiance is quaint + comfortable. Perfect for a relaxing meal + a glass of wine, of course!! 13 Rue Guisarde, 75006 Paris
A bastion of maximalism, Caviar Kaspia is one of Paris's most lauded restaurants. If one could choose a single word to describe it – DECADENT!! I was invited to an Architectural Digest + Sanderson dinner here and was SWOONING!! 17 Pl. de la Madeleine, 75008 Paris
Naturally, if one is dressed to kill, a stop at Bar Hemingway in the Ritz for martinis is très nécessaire!! The location alone is worth the stop! 38 rue Cambon, 75001 Paris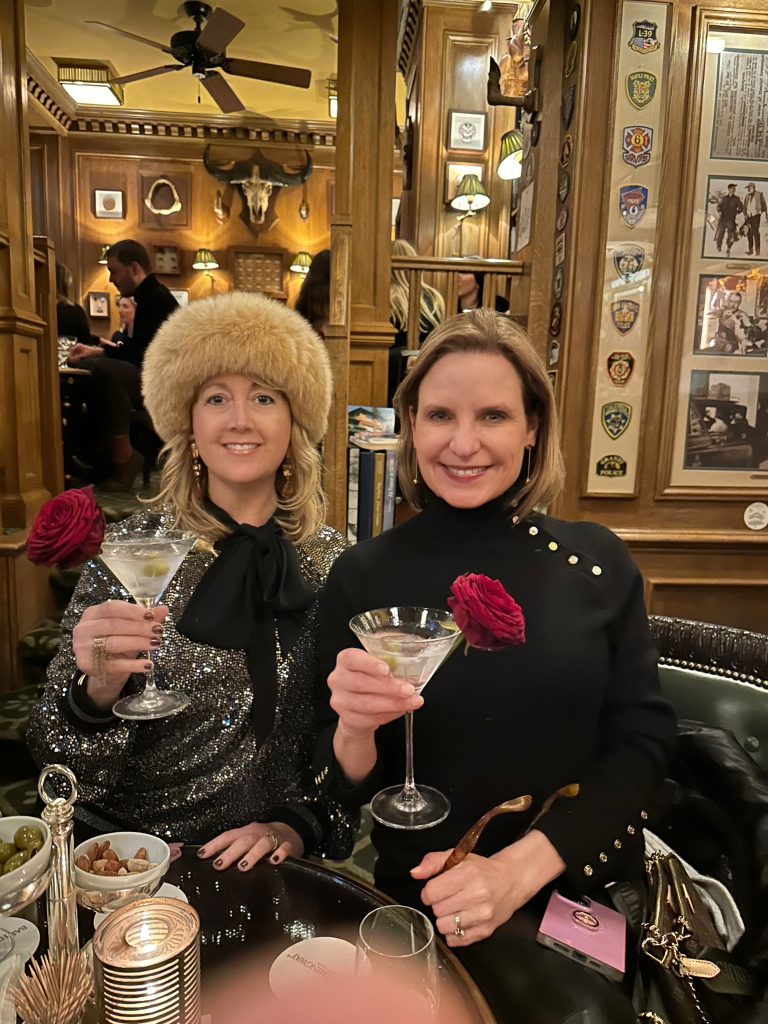 A new favorite discovery, Bambini at the Palais de Tokyo, is delightful!! The decor is at once sophisticated + playful, and the menu is full of your favorite Italian delights. You MUST visit, at least once!! Palais De Tokyo, 13 Av. du President Wilson, 75116 Paris
What could be more fun than dinner, drinks, and disco INSIDE an iconic opera house? Nothing. Nothing could be more FUN!! CoCo is the spot to go when you want to dine surrounded by live music, stunning architecture, and fashion that awes you, and then, perhaps, do a little dancing of your own! Plan to eat late – this is a 10 p.m. meal kind of spot!! (Peep their Instagram if you don't believe me!) Palais Garnier, 1 Pl. Jacques Rouché, 75009 Paris
Nestled inside the swank Hotel Costes, the terrace at Cafe Costes is a GEM!! Don't leave without stopping by the lobby and taking home all of the candles you can fit in your bag – the house candle is the BEST candle ever!! 7 Rue de Castiglione, 75001 Paris
Another bar inside a divine hotel, the bar in the Cheval Blanc, Le Tout-Paris, is breathtaking – both inside and outside. The views are STUNNING, and the cocktails + food divine! 8 Quai du Louvre, 75001 Paris
Where to VISIT
My list of places to visit in + around Paris could go on FOREVER, but I'll keep this one short + to the point: VERSAILLES!! Versailles will always be an overwhelmingly beautiful place to visit. The history, the decadence, the gardens … every bit of it is truly beyond words!! Whether you've never been, or you're returning for the fiftieth time, there's always more to discover. I used a tour guide to facilitate a private tour on this last trip, and it.was.amazing. Boris Petrovski is the best of the best when it comes to guides; tap his name to email him if you're headed to Versailles and tell him Courtnay sent you!! (And don't forget to mill around the town of Versailles a bit while you're there! The antique stores abound – I found one of the original garden umbrellas for sale in one, but sadly, garden umbrellas don't really fit in the overhead compartment…) Place d'Armes, 78000 Versailles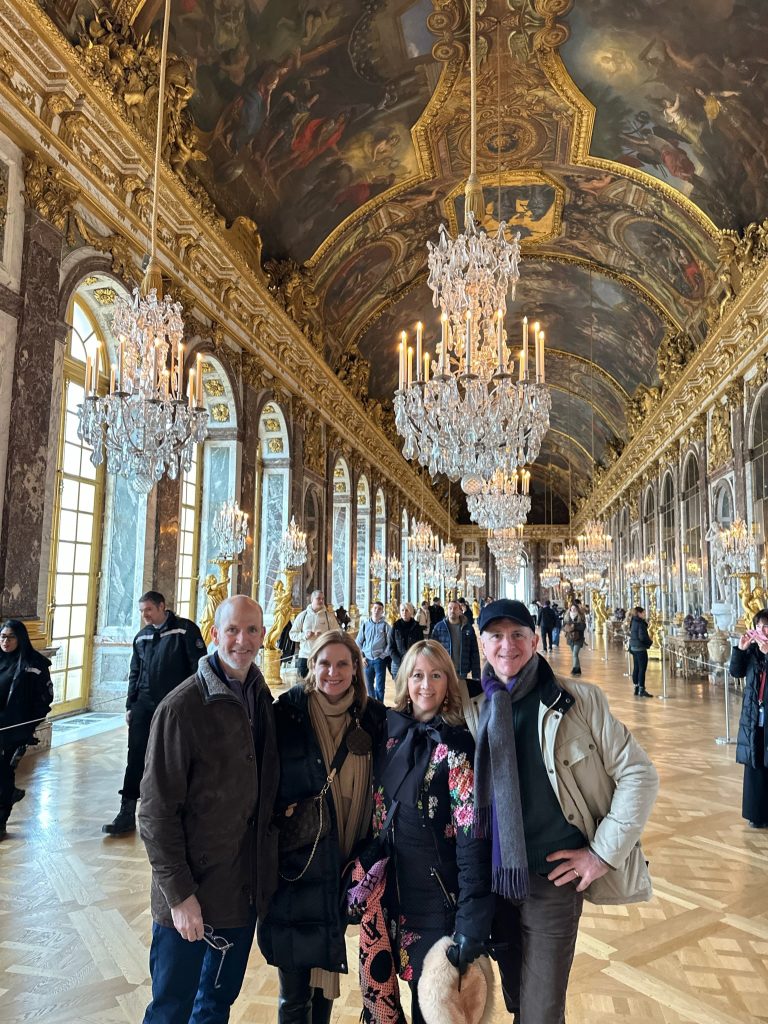 SO Much MORE to Come!!
There's more to come from Creative Tonic's upcoming travels! I'm off to Rome and Tuscany this summer with my family + can't wait to share our favorites in my ColorFULL Italian City Guide!! PLUS, that sneak peek of my project with Morris & Co. will be front + center too! You're going to adore seeing how the inspiration from my visit to the Lanvin store in Paris + thoughts of William Morris led to a plaster tree in my home's courtyard!! Talk about full circle…
Au revoir for now, ma chérie!!!