We're so close to one of my favorite days of the year, Creative Tonics, + I can't wait to share the details behind what I'm getting YOU!! If you didn't catch my giveaway post on Instagram, hop on over there + enter to win some of the most FAB items I've ever had the chance to give away!! Keep reading to learn a bit more about the talented vendors (+friends!!) I'm partnering with to bring you these AMAZING goodies!!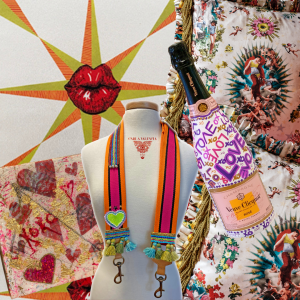 Who doesn't love champagne ++ especially a beautifully painted bottle of bubbly that doubles as décor?! The amazingly talented Debbie Pakzaban Art has gifted us a LOVE-covered bottle of Veuve!!
My friend Debbie Guinn at Guinn Art & Design is gifting a Love Note – a stunningly versatile piece of art that knows no season. Gift it, display it, LOVE it!!
We all know my obsession with fashion runs deep + accessories might be my favorite. I'm TRULY obsessed with the custom purse strap my friend Carla Valencia made for me, so I am THRILLED that she's made one for you too! The tangerine and fuchsia strap with layered, imported gold glitter ribbon + French, hand-frayed velvet is topped with a FUN woven trim from Peru! The ends are hand-beaded with vintage pearls, ombre blue + green tassels and Carla's hand-beaded and leather-backed heart topped with vintage metal stars!! Could anything be more CHIC?!
The teams over at Wells Abbott and Aux Abris Wallpaper have generously gifted TWO rolls of Aux Abris SMACK wallpaper. I'm POSITIVE that this is the MOST fun wallpaper I've ever seen!! The colors and the LIPS (in various stages of forming a KISS!!) are divine + it's all printed on mica-coated paper for a lustrous finish. How fun would this look in a powder bath, or lining the cabinets or shelving in your office? The possibilities are ENDLESS.
We're giving away one more item for your home – the very same fabric I fell in love with when I designed my Kips Bay Show House Media Room can be yours too!! I'm gifting two pillows covered in Jean Paul Gaultier Angelot fabric – just like the ones I used in the Show House!!!
Today is made even more special because today is Mr. Creative Tonic's BIRTHDAY!!! I know y'all are familiar with him (remember when he convinced me to start an Amazon storefront?!) – he's BRILLIANT, I tell you!! I'm SO THRILLED to be celebrating him today + ECSTATIC that Valentine's Day and HIS big day are so close together on the calendar! It's the PERFECT gifting situation!! So, today I'm sharing what I'm LOVING for Mr. Creative Tonic … If you're looking for what to GIFT your special someone, whether it's their birthday or for Valentine's, look no further! Ideas GALORE can be found right here.
I hope you've loved all of the fabulous Valentine's-themed items I've been sharing with you on the blog and over on Instagram Stories!! We've covered everything you need to fall in LOVE with your home, what to give those SWEET littles in your life + of course, a few items for you + your gals!
Happy Gifting, Creative Tonics!!