Dollhouses + Fruit Salad… what a FUN combo, Creative Tonics!! And this year, our sweet dollhouse is for kids of ALL ages + available for purchase at the upcoming La Petite Maison cocktail party + charity auction, benefiting A Shelter for Cancer Families. This VERY special organization provides shelter + support for families seeking cancer care in the Texas Medical Center – they are truly an amazing organization doing life-changing work!  And how amazing this organization is pairing up with a group of Houston interior designers that are LITERALLY decorating a bevy of beautiful  "petite maisons" — what a BRILLIANT fit !!!
When fellow Houston-based designer (+ this project's visionary!!)  Alexandra Killion approached me about decorating a dollhouse for the auction, it was the PERFECT opportunity to support a wonderFULL charity + one I jumped on immediately!! I have long LOVED dollhouses + grew up rearranging + decorating my own – it was truly my MOST memorable + favorite toy as a child. Over the pandemic, I had planned to bring my own treasured petite maison out of storage + bring it back to life, but wasn't able to as we were so busy bringing Creative Tonic to YOUR homes! So, when this opportunity arose, I felt like it was FATE!! 
Shortly after I shared a preview of my dollhouse on Instagram, a follower reached out to say that she had been inspired by this project to revamp her own childhood dollhouse! She shared that her precious young son had passed away from cancer recently + that a project like this would be her way of filling the quiet time of her grief. I am BEYOND moved + honored that our endeavor has offered her support + a moment of joy in the midst of her loss – her story just reinforces how passionately I support charities like ASCF and La Petite Maison that are working to ease the burdens of families dealing with cancer.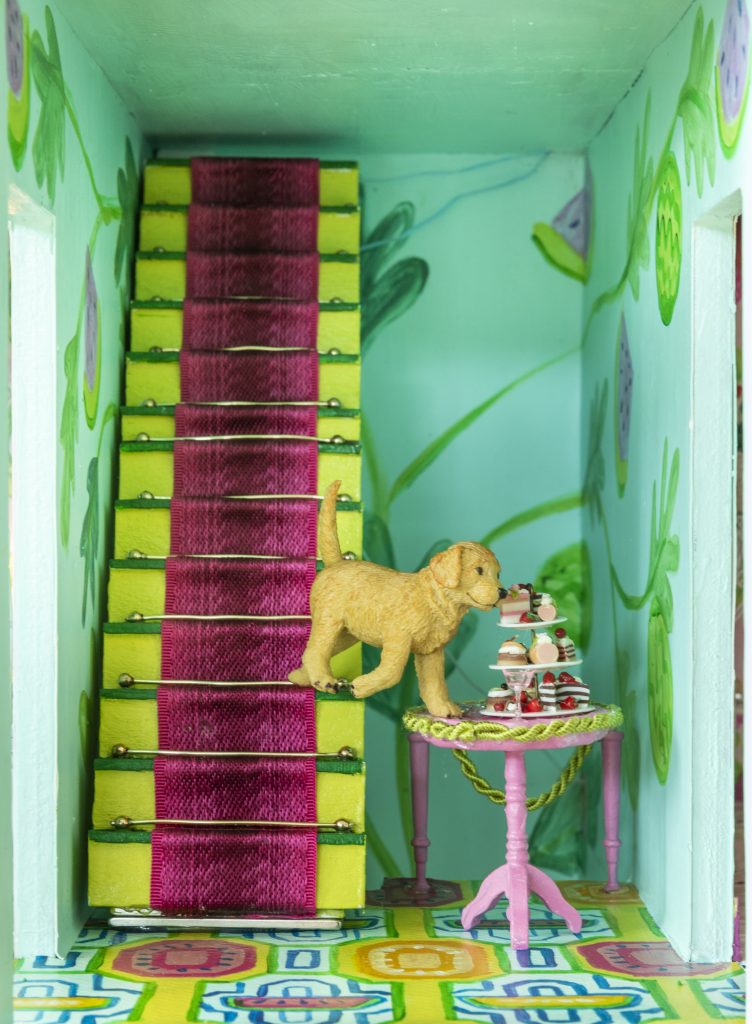 I knew right away that my dollhouse would be a fun and ColorFULL maximalism mix (of course!!) + immediately thought of my recent ColorFULL Fruit Salad blog!! With fruit on my mind, I saw  so much fruit inspiration during my summer travels abroad — from artwork to architectural elements to wall murals + beyond…  it was FATED that my dollhouse would become a ColorFULL Fruit Salad Cottage!!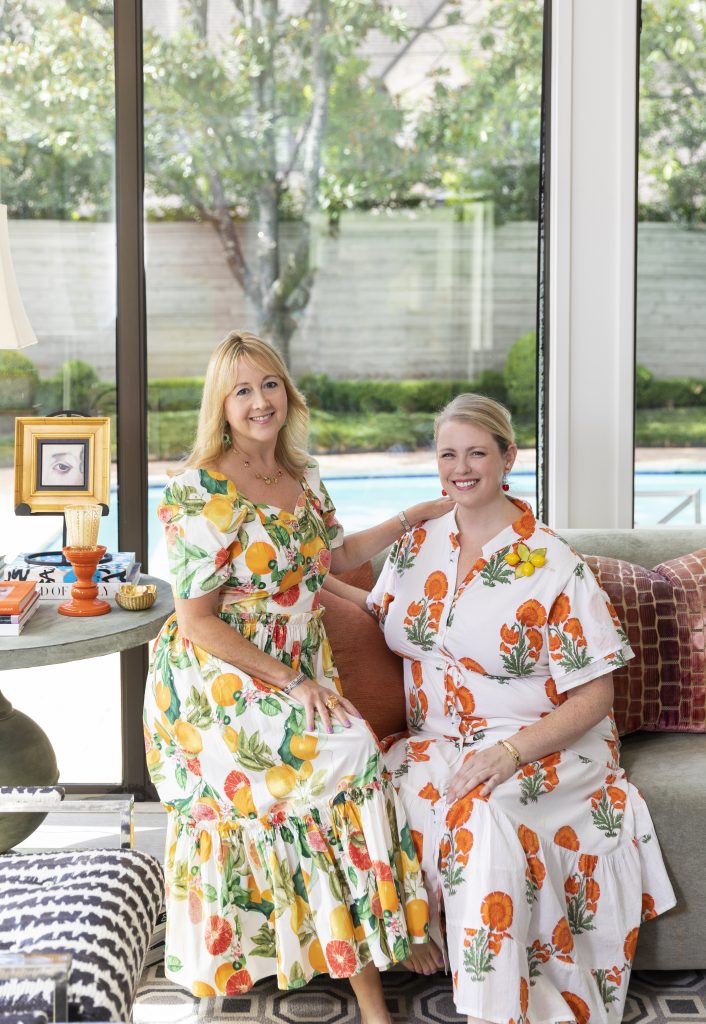 Naturally, the fruit-filled inspiration for the dollhouse had to be over-the-top + as original as I could dream up… so enter Andrea Condara, artist extraordinaire! I worked with Andrea on my Kips Bay Designer Show House Moulin Rouge Media Room + LOVE her murals at LuLu's in Round Top + I knew she was EXACTLY the person to help bring my vision to LIFE!! As I shared with Paper City, I was inspired by the Bloomsbury artists and style from the early 20th century where every element in a home is decorated. With that in mind, Andrea + I decided to go "all in" + make EVERYTHING in our Fruit Salad Cottage a work of art, from the furniture to the walls, it's ALL a tribute to our maximalist expression of Fruit Salad!! 
Who knew that a dollhouse would lead to so many things, both JOYFUL + HEARTFELT?! This project, from start to finish, has felt like it was meant to be. So, while I didn't get the chance (YET!!) to reimagine my own childhood dollhouse, I am beyond excited to lend my support to La Petite Maison + ASCF. I look forward to being part of the La Petite Maison gala this year + to helping the event grow in the coming years. 
If you haven't yet gotten your tickets for the event, held September 7th at The Junior League, HURRY as ticket sales close Friday, September 2nd!! Tap the links to read more about La Petite Maison + purchase tickets, + visit ASCF to learn more about their commitment to supporting visiting cancer families. If you can't make it to the gala, please consider a donation to ASCF via their website, or stop by any of the local Dollhouse Tour Sponsors (more info here!) to see some of these miniature works of art on display before the auction!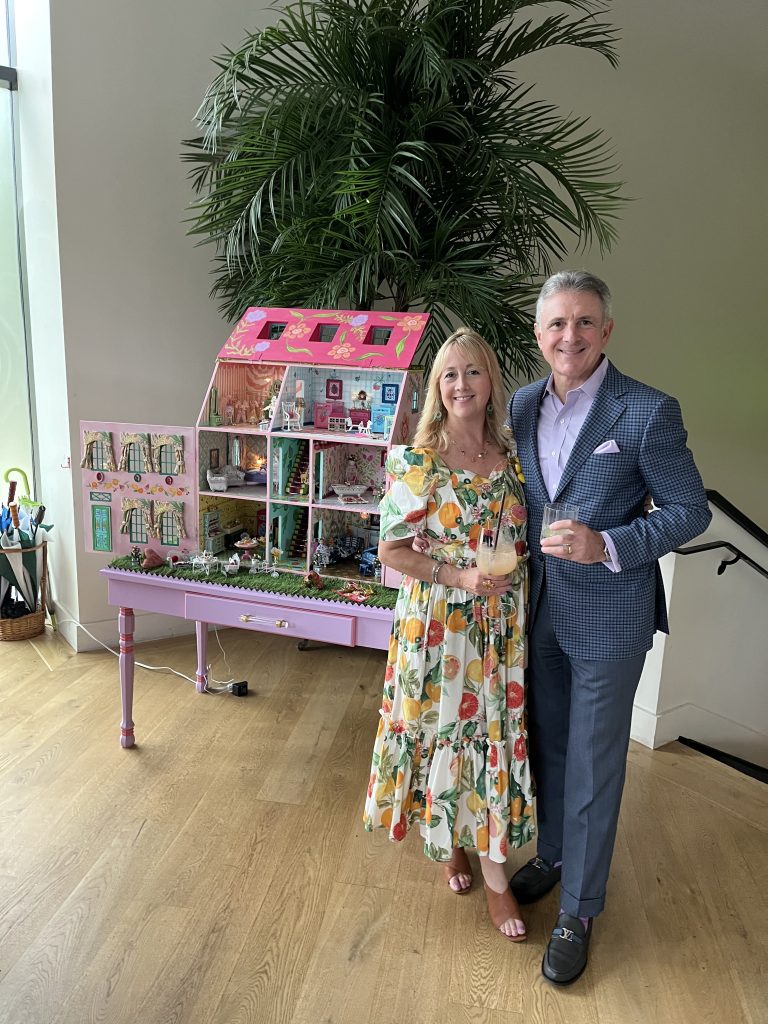 You can visit my ColorFULL Fruit Salad Cottage at The Annie, through September 6th!! If you're feeling inspired to bring a dollhouse or some fruit-filled FUN into your life, visit my Amazon Dollhouse + Fruit Salad stores, or take a peek at some FABULOUS fruit-inspired goodies for YOU + your HOME below! 
See you (hopefully!!) at La Petite Maison, Creative Tonics!! And congrats to Houston's Alexandra Killion for HER amazing vision + bringing us all together!!