You asked + I'm answering, Creative Tonics!! Thank you for sending me fun questions over the past couple of weeks on Instagram. I've had A BLAST sorting through them +  learning more about YOU + what YOU want to know about interior design, my style, life + ALL.THE.THINGS!! So, let's dive inside my ColorFULL mind!!
What is your favorite travel destination?
It will ALWAYS be PARIS!!! I love everything about the City of Lights – so much so that I turned to Paris + the Moulin Rouge (the place, the vibe, the movie) as inspiration for the Media Lounge I designed at the Kips Bay Decorator Show House Dallas last fall. Hit PLAY for a VIP look at some of the Parisian INSPO that brought my dream room to LIFE!!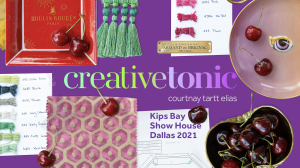 Speaking of travel, y'all had lots of questions about my recent trip to Round Top!! Most importantly …
How many pairs of shoes did you bring on your trip?
I laughed when I read this one, Creative Tonics… it was quite a few, even though I ended up wearing the same pair of lavender Lanvin sneakers every day!!
The breakdown:
4 pairs of cowboy boots (these are SO chic!) … I might have even bought a new pair while out!! How could you pass up those GORGEOUS white boots by City Boots?! (Tap the boots to take them HOME with you!!)
A pair of purple rain boots
3 pairs of sneakers (colorFULL = wonderFULL)
1 pair of bedroom slippers (because, it's important to feel FABULOUS even when you're LOUNGING!!)
Y'all wanted to know my preferred spots to shop when I'm on the hunt for colorFULL antique + vintage finds + I've got a few to share:
Excess + Excess II—especially Don Fields's spot Morning Glory Antiques. Take a peek at his Instagram + I promise you'll be swooning!! The Big Red Barn's Continental Tent never disappoints!! Marburger Farm, of course + be sure to stop in at the Silver Dollar Salloon there to see my friends at Halsey Dean Gallery!! It's always SO FUN to see design friends + enthusiasts shopping for treasures!! I promise I never find it "picked over" – in fact, one of the best days I had there was a closing day!! Blue Hills is always a BLAST, too! The Compound is such a LOVELY environment to shop – lots of great vendors to check out. I absolutely ADORE Box Road!! They've got some FABULOUS unique pieces!!
Last but certainly not least, I have to say that I adore shopping the fields in Warrenton + make it a point to visit on opening weekend!!
So, we've covered WHERE I shop in Round Top, but y'all had LOTS of questions about HOW I shop when I'm searching for pieces for my clients …
Do you purchase pieces in hopes that you will use them or pieces you know you need for a client?
I do both! Everything to excess, as they say!! I ALWAYS have a shopping list for clients so that I can keep track of what I need + I try not to get TOO many things that we'll end up needing to store… but if a one-of-a-kind treasure SINGS to me, you might as well start loading it up!! I'll find the perfect spot for it in one of my projects or it will become the newest addition to Casa Creative Tonic!!
So, you asked what I do if I've found the PERFECT antique piece for my needs but it needs some sprucing up … where do I take it?
It really depends on the material, but let's be clear – I am NOT a DIY girl so I've got a list of pros that I call on!! Anything metal I take to Peck + Company. Anything needing to be painted with patina (because, oddly enough, patina is AGELESS) goes to Segreto Finishes. Anything I want to lacquer goes to my painter + anything that needs wood touch-ups or repairs to leatherwork, etc. I take to The Joseph Company!! I am always BLOWN AWAY by the INCREDIBLE work these firms do; they are so professional, reliable + talented!! As one of my design icons Jan Showers likes to remind everyone, "buy right, cry only once" + this 100% applies to working with the BEST when it comes to repairs + TLC!!
Not specific to antiques or Round Top, one of your top questions was how I keep things looking tasteful and elevated when mixing bright, bold colors?!!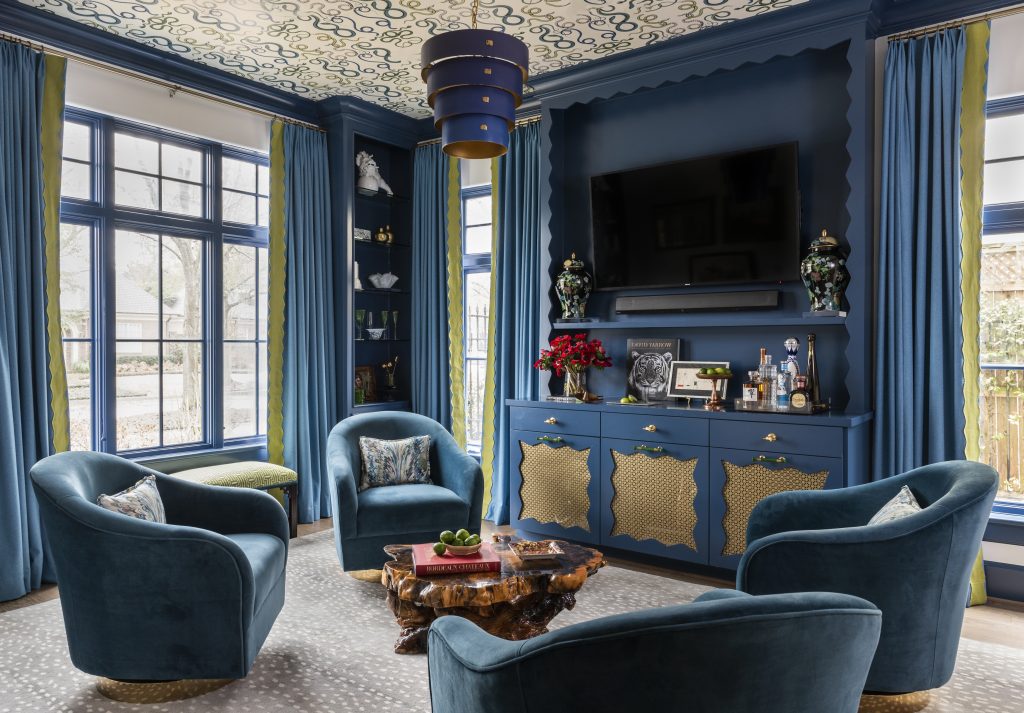 Firstly, I have to say THANK YOU for the compliment!! I start by establishing a color palette + then I turn my attention to the scale of all of the patterns + where each will be used. As a general rule of thumb, walls and drapes can usually handle large-scale patterns … but it's fun to mix things up!! Sometimes a large-scale wallpaper doesn't feel quite as bold when a smaller scale pattern is used for the drapery fabric. It's also fun to break up a pattern with a solid trim or contrasting welt. I do this on a LOT of drapery!! Starting with a solid fabric, you can create a custom pattern using trim or you can use a solid fabric with a contrasting welt to create excitement without overwhelming.
I LOVE to push the envelope when it comes to mixing patterns! Sometimes MORE really is MORE FUN!! I am really inspired by English Arts + Crafts where patterns upon patterns are mixed but with different scales in the designs. I also try to use a delicate balance of a few FLORALS with a GEOMETRIC print or STRIPE or CHECK – a good ratio is one geometric for every three florals +  AT LEAST two types of trims!!
Speaking of colors, one of you dear CREATIVE TONICS asked about my FAVORITE pink paint!!
Hands down, it's Benjamin Moore's Charming Pink (#2075-70) which I love pretty much in any form! BUT, I especially LOVE it in HIGH GLOSS!!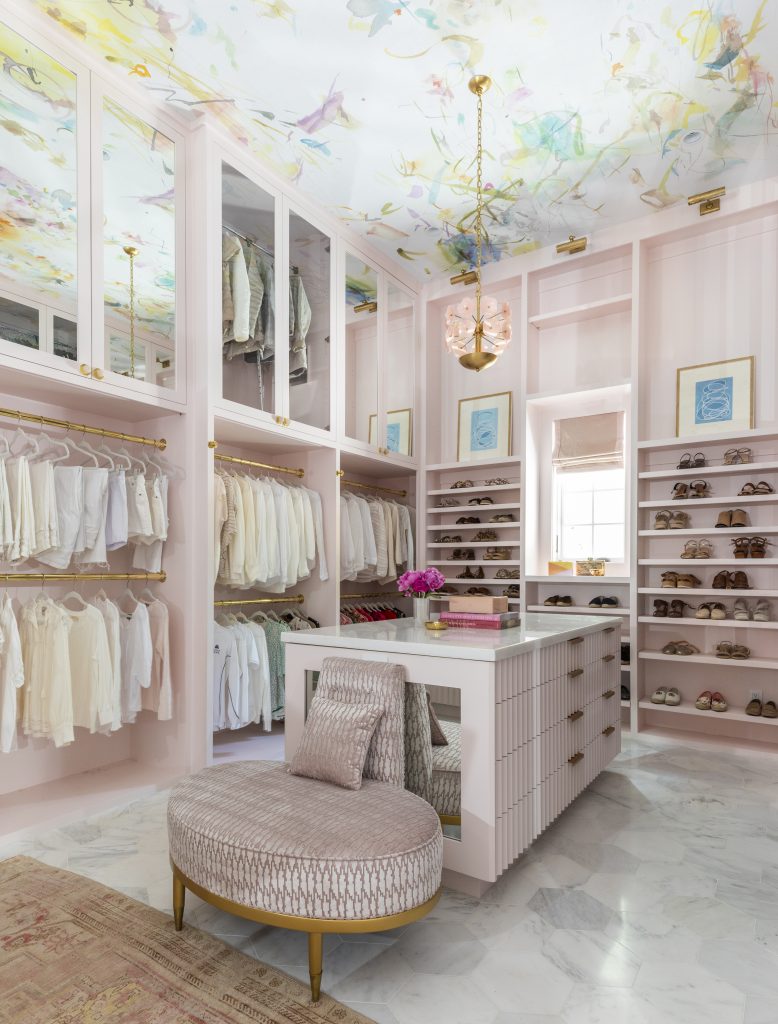 Phew, when all of the shopping, travel + working is done, you asked what I do to relax and keep fit?
You'll find me doing yoga with friends fairly often, because it's always more fun to exercise when you've got your pals there to chat with!!! And in that vein, Mr. Creative Tonic + I do Pilates twice a week, too. I'm also a big fan of podcasts and go on walks so that I can taking a moment to be alone while listening – it's the PERFECT way to start or wind down a busy day!!
Until next time, Creative Tonics, happy shopping, lounging + decorating!! And if you're looking for a few colorFULL Creative Tonic-inspired finds, look no further than my FAVES below!!