L'Italia è per gli innamorati! 
Italy certainly IS for LOVERS … of food, of wine, of shopping, of history + of INSPIRATION. Everywhere you look, there's more to be discovered. I've been in LOVE with Florence since Mr. Creative Tonic + I honeymooned there (just a FEW) years ago. What better place to return to celebrate our LOVE (+30th anniversary!!) than the beautiful Tuscany region of Italy? We've just returned from the MOST amazing trip + I can't wait to share a few of my FAVORITE memories with you, Creative Tonics!! 
I would be remiss if I didn't mention our uber-talented, travel agent straordinario, Kate Johnson of KJ Travel. She designed a bespoke trip for us that allowed us to truly leave the world and worries behind and just ENJOY our time spent together. Kate thinks of everything + her restaurant suggestions are sublime, drivers are punctual + professional + tour guides are the most knowledgeable… call her to plan YOUR next sojourn! 
Pranzo di anniversario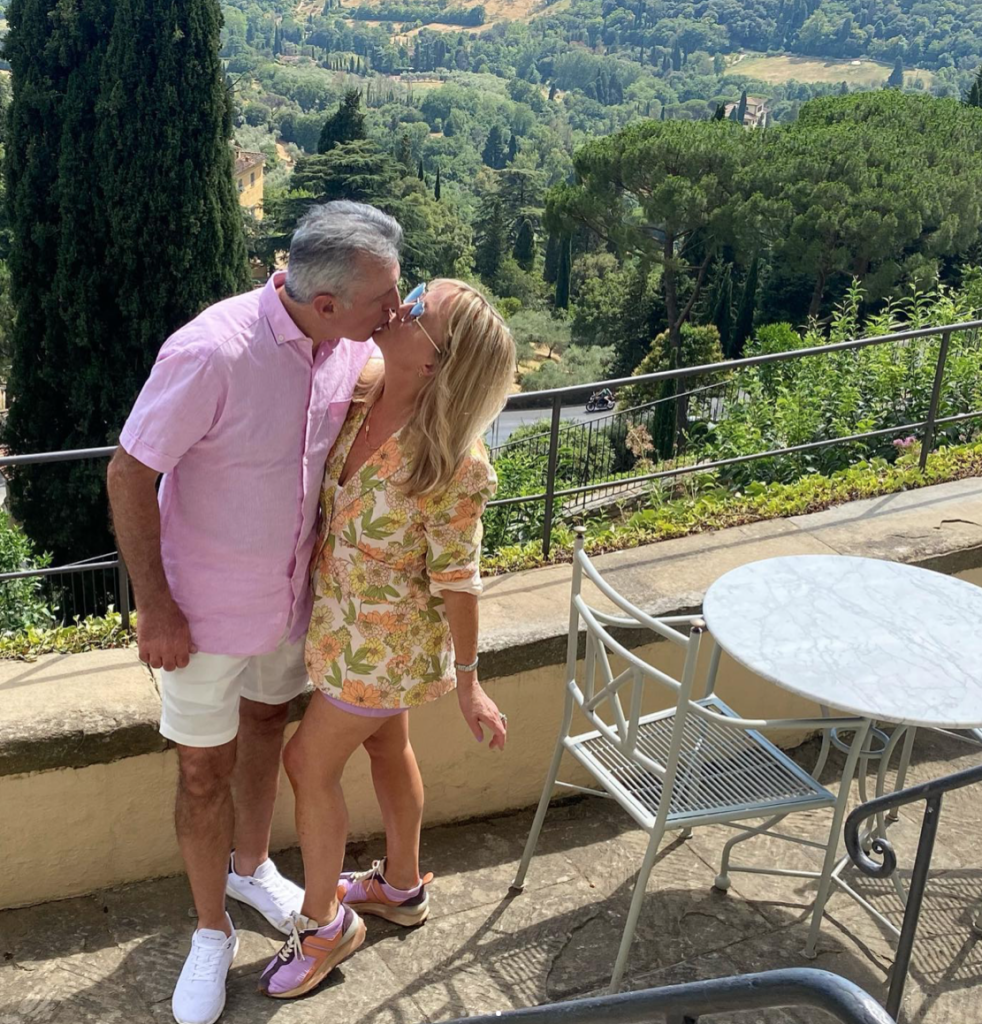 We celebrated our anniversary lunch at Ristorante San Michele at Belmond Villa San Michele and it is said that the gorgeous facade of the building is attributed to Michelangelo!. The absolutely STUNNING hotel + its restaurant are set into the hills of Fiesole and the dining porch overlooks the Duomo in Florence. The gardens (+ we all know I LOVE a good garden!) + the swimming pool are incredible + the food is SUPERB. There is even an old chapel they have converted into a hotel room set into the hills they reserve for HONEYMOONERS!!  I'd love to come back and stay here! After our anniversary lunch we walked off our pasta + vino with a hike from the Villa San Michele to the town of Fiesole + back so we could see all of the ancient Roman ruins. I highly recommend this little jaunt before heading back to Florence… unless you are staying at the villa… then I'd hit the swimming pool + nap there instead!! 
My Creative Tonic travel tip is to wake up early + take in the sights + THEN take a long, leisurely lunch in the finer restaurants… it is way more affordable… AND then you can spend the rest of the day shopping and walking off your meal! Molto bene!
Acquisti, acquisti + acquisti!!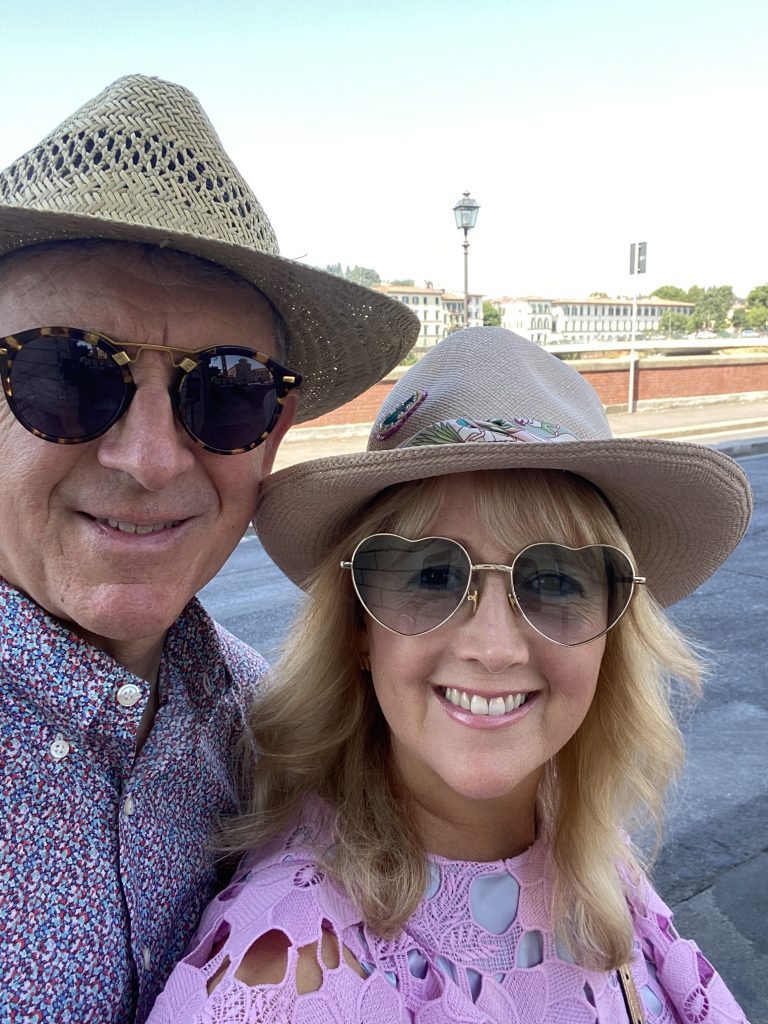 The shopping in Florence is TRULY unparalleled!! I've been particularly inspired by the marbelized paper + marbleized leather items + really all of the leather items that abound in Italy!! From trash cans + desk items, to jackets, purses + even skirts, you can be SURE that a few made their way home with me!! It is fun in Florence to discover all the beautiful leather shops tucked in near the Basilica of Santa Croce. Many of these shops will take your measurements and custom make anything for you during your stay!! We also literally stumbled into Julia B Casa on a small street around the corner from our hotel. This GORGEOUS shop is spilling over with beautiful bespoke table + bed linens, straw placemats, custom lighting + unique furniture. Julia B herself spent all afternoon with us sharing how she moved to Florence during the pandemic + then opening her shop. The back garden of her shop is equally as charming + is filled with flowers and iron furniture. If you cannot get to Florence to experience her gracious hospitality (she phoned up her favorite restaurant – Cantinetta Antinori and made us a dinner reservation at their best table!!), be sure and shop her website for all of her beautiFULL home and personal finds!! And one more thing… Cantinetta Antiniori is set in the beautiful Palazzo Antinori + they have their own wine shop with unique finds there as well… do not miss!
Gucci Garden
I MUST share with you one of my FAVORITE places in Florence – the Gucci Garden!! Part museum, part restaurant, part INSPIRATION heaven, part store (of course), it is truly one-of-a-kind. Inside the historic Palazzo della Mercanzia, previously home of the Gucci Museo, and just around the corner from the Uffizi Gallery, this DECADENT destination is the stuff of DREAMS!! Take a peek at the floors in Gucci Osteria, the restaurant with a menu designed by three Michelin starred-chef Massimo Bottura. SWOON!!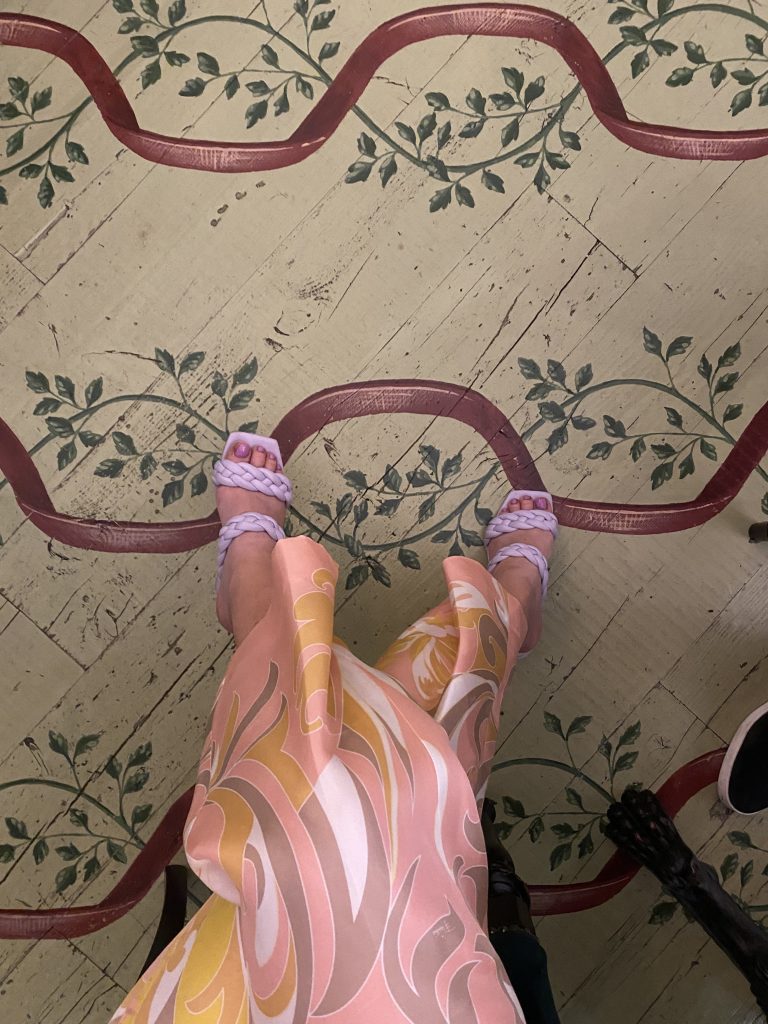 The shopping at the Gucci Garden is just as bespoke as the place itself – SO many of the items are one-offs or one-of-a-kind items that you can't get anywhere else. It is truly something that must be EXPERIENCED to be believed!! If you shop here… everything is unique to this store only + the staff, especially Patrick, made our shopping experience SO MUCH FUN by finding a few things that weren't even out of the floor for us! Go to Gucci Garden STAT!!!
Next stop, the South of France!!
After a lovely few days in Tuscany, we also spent a day near Montepulciano tasting wine and cheese. Mr. Creative Tonic and I were off to the South of France. More to come on that in the next blog … but in the meantime, if you're feeling INSPIRED by ITALY, I've put together a few of my favorite items that take me back to that FLORENTINE feeling anytime I see them. 
Happy shopping + happy travels, Creative Tonics!!