Creative Tonics, I've got a VERY SPECIAL surprise for you today! I am being joined by the ultra-FABULOUS creative mind behind Leontine Linens, Jane Scott Hodges!! I'm beyond thrilled that she so generously agreed to take a break from the madness of carnival season in New Orleans to share some of her cherry-picked Crescent City favorites  – prep your notepad because we're chatting all things design + décor, personal style, where to eat, where to shop + of course, MARDI GRAS!!
Jane Scott is the founder and owner of Leontine Linens, a New Orleans-based company that creates handcrafted linens that are both gorgeous + practical for today's families!! If you haven't had the chance to meet Jane Scott, I promise you're going to love her + her colorFULL style just as much as I do.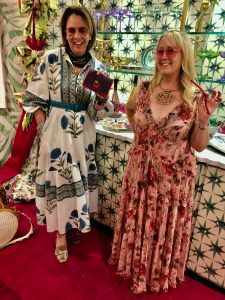 What could be better than having beautiful, FUN + exquisitely-crafted linens that are made to actually use?! I've had the great pleasure of working with Jane Scott in a variety of settings. In fact, Jane Scott + her team were instrumental to the process of bringing my Kips Bay Designer Show House design to life in Dallas last year – and we had the most wonderful time working together on these unique designs: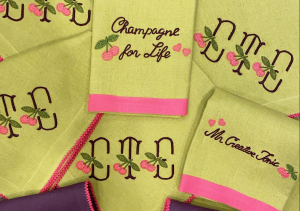 Not only is Jane Scott supremely talented, an accomplished author (you can find her latest book here!) + a passionate philanthropist, but she's also a style icon + our resident NOLA expert!! Read on to hear what she has to say!!!
I adore how your couture linens tell such meaningful stories! Do you have a favorite design or an heirloom linen that you treasure most? You've mentioned that a treasured heirloom portrait, Creole Lady, watches over your dining room — has she inspired any of your designs?
The Creole Lady has watched over many a dinner party. She is the focal point of the dining room, and I love to set the table and plan the flowers in such a way that she is pleased.
I cherish the heirloom linens that I've inherited from both my family and my husband's. My own family collection is what inspired me to begin this journey just over 25 years ago – they hold a very special place in my heart.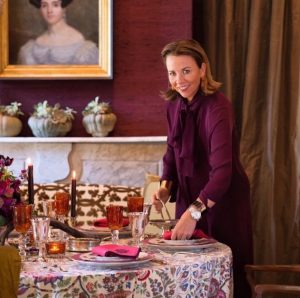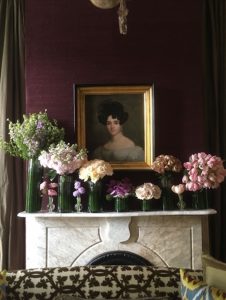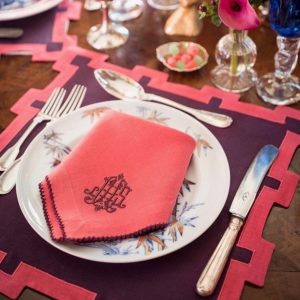 The Creole Lady is a focal point of the dining room — Hodges always thinks of her before setting the table and selecting floral elements.
You're well known for your love of, and talent for, entertaining. If you had to describe your approach to entertaining in three words, which three would you choose? 
"Mix and Match" – one of my mantras is "The fun is in the mix" – it's even a chapter title in my book, Linens: For Every Room and Occasion! Mixing china patterns, table linens, silverware, glassware – but also mixing the people you entertain. I'm a bit of a chemist when it comes to entertaining – I love to bring people together in interesting ways, just like I love to combine my cherished collection of table décor in new ways. Doing so sets the mood for an event, just as the invitations, flowers, food and cocktails do.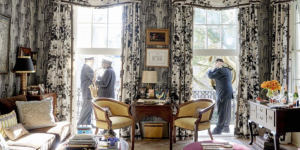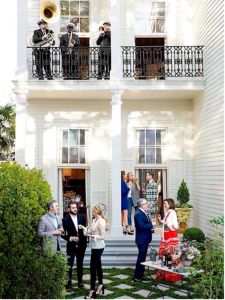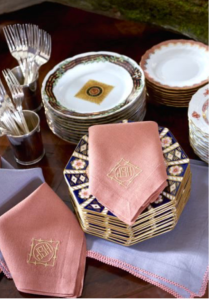 A brass band welcomes guests to a fete at Jane Scott and Philip's Garden District home where people, china, and linens mix for an unforgettable night. Photos by Paul Costello.
What do you find to be the most inspired use of color in the Crescent City — this could be a textile or paint or décor in a restaurant, store, home or otherwise! 
Walking the neighborhoods of New Orleans is the best way to see how color permeates every nook of the culture. Color is imbued in the physical spaces and dwellings in the most charming ways. Whether it's the French Quarter, the Bywater, Treme, or the Garden District, our residents' homes radiate color unlike any other city. Take my chartreuse living room as an example!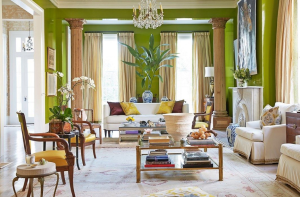 Hodges' double parlour celebrates New Orleans' flare for color with lacquered chartreuse walls.

What does a day in your life look like during Mardi Gras?
Mardi Gras is not for the weak of heart! Carnival season is a marathon, not a sprint. For locals, it's a multi-generational experience – kids home from college, parents rushing out to balls, and grandparents "gatoring" on the dance floor. The festivities begin on Twelfth Night (January 6th) and this year, culminates with Fat Tuesday on March 1st. It is 7 weeks of balls, parades, and parties. In the final week, it is not unusual to hit the parades all day, with a quick-change into a ball gown (tails for the men) and whisk off to a night of revelry.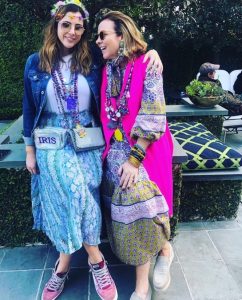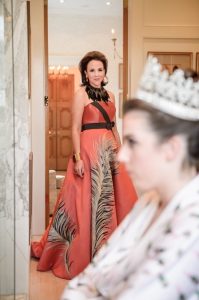 From parade route to the ball room, Hodges loves the one-of-a-kind culture of Mardi Gras
and the cherished memories it brings to her family.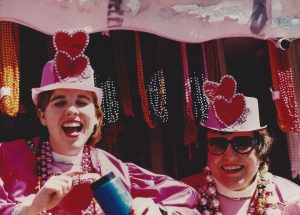 Hodges, riding a float in the all-women Iris parade many years ago with her mother, Jane Allen Offutt.
Your go-to source for King Cake?
This is a very controversial question! There are so many delicious options, and each is good in their own right. I'm partial to Brennan's "Pink Parade" strawberry cream cheese king cake for a unique twist, and Tartine's king cake for something more traditional.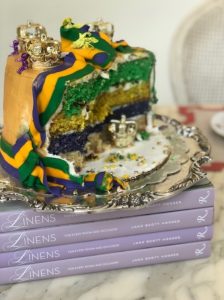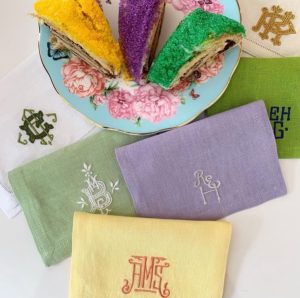 King cake is a Mardi Gras staple – served throughout carnival season with technicolor sprinkles in traditional gold, purple, and green. Even traditional layer cakes get in the carnival spirit!

You are fabulously well known for being impeccably stylish, in entertaining, decor, AND dressing — what inspires your style when it comes to clothing?
That same "Fun is in the Mix" mantra applies to my closet. I love playing with pattern, texture, and color.
What is your most cherished memory of New Orleans?
Meeting my husband at the Japanese Room at Antoine's when I was 21 years old. It goes without saying that it was a Mardi Gras event. The rest is history.
What restaurant do you find yourself returning to repeatedly, and what about it brings you back? 
New Orleans is so flush with amazing restaurants, it's a badge of honor to become a local's "repeat spot." La Petite Grocery is one of our favorite restaurants, we return time and time again – we also always recommend it as a must-hit for first time visitors to New Orleans. Hotel St. Vincent's San Lorenzo is a new favorite – their Italian Marguerita cannot be missed. Le Bouligny Tavern is great for late night snacks and drinks. Domilise's is where locals go for their po boys – a Mardi Gras hangover staple. Casamento's is my favorite spot for oysters – when you walk through the door, you are transported to another era, truly!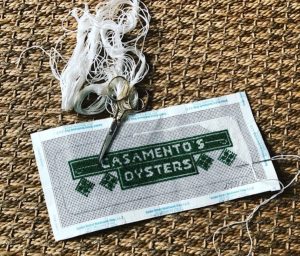 Hodges needlepointed a Casamento's holiday ornament because the restaurant holds such cherished memories for her family.

A few rapid-fire favorites!! 
Neighborhood
I love the neighborhood I call home today – The Garden District is such a beautiful, quiet neighborhood brimming with historic homes and conveniently nestled between St. Charles Avenue and Magazine Street.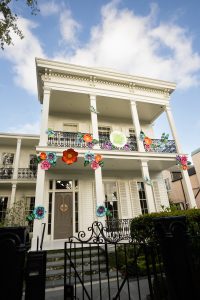 Hodges' Garden District home is adorned with papier mâché flowers like those found on Mardi Gras floats during the carnival season. Photo by Paul Morse.
Park
Audubon Park is a part of my daily morning ritual. Located across the street from Tulane, it's been in my life for my entire adulthood. Every morning, my husband Philip and I walk at the park – we leave our phones behind to unplug and re-energize. My day isn't the same if I miss my morning visit. Audubon Park is everything wonderful about New Orleans – wildlife-filled lagoons mingled with city-dwellers under a canopy of ancient oak trees.  It's a wonderful reminder of why I call New Orleans home.
Art gallery or museum
Alex Beard's gallery is located in the heart of Magazine Street's shopping district. I love his eye for combining the abstract with flora and fauna. My home is filled with his pieces – one of particular fondness is the custom palmetto he painted for a family event.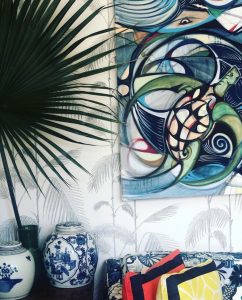 An Alex Beard painting is featured in Hodges' den.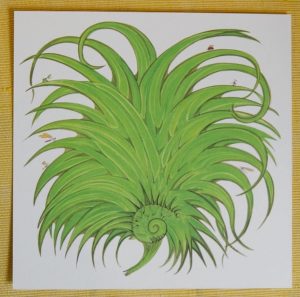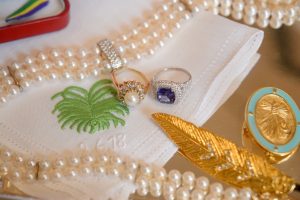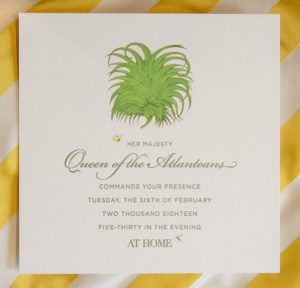 Alex Beard created a stunning custom artwork for a family event which Hodges replicated on embroidered handkerchiefs.
Local Artisan
I love local textile artist Ellen Macomber – her headpieces have become a cult favorite. I have one of her caftans that always makes a showing at the parade route during Mardi Gras.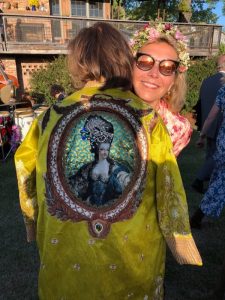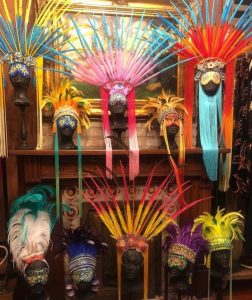 Item in your home sourced locally
I love to surround myself with beautiful items made by my friends. Mallory Page is another local artist I admire – her monochromatic pieces are serene and modern. Julie Silvers' ceramics are unique, made in New Orleans collectibles.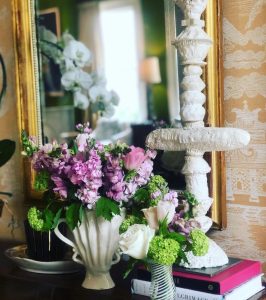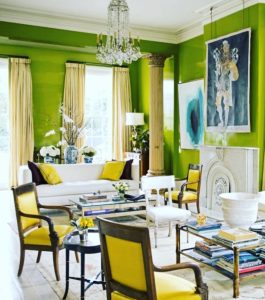 A Mallory Page painting features in Hodges' living room (to the left of the fireplace). Photo by Paul Costello.
A HUGE thank you to Jane Scott for joining us + sharing all of her FAVORITE things about New Orleans! We can't wait to hear where YOU go on your next trip to the Crescent City!! Now that you're feeling INSPIRED by all things Jane Scott + Leontine Linens + NOLA + Mardi Gras, we've gathered a few shoppable favorites to get you in the spirit!! Happy shopping, Creative Tonics!!