Happy 2021 Creative Tonics! BRILLIANT days lie ahead and I am beyond excited about all of the NEW quarantine babies coming this year!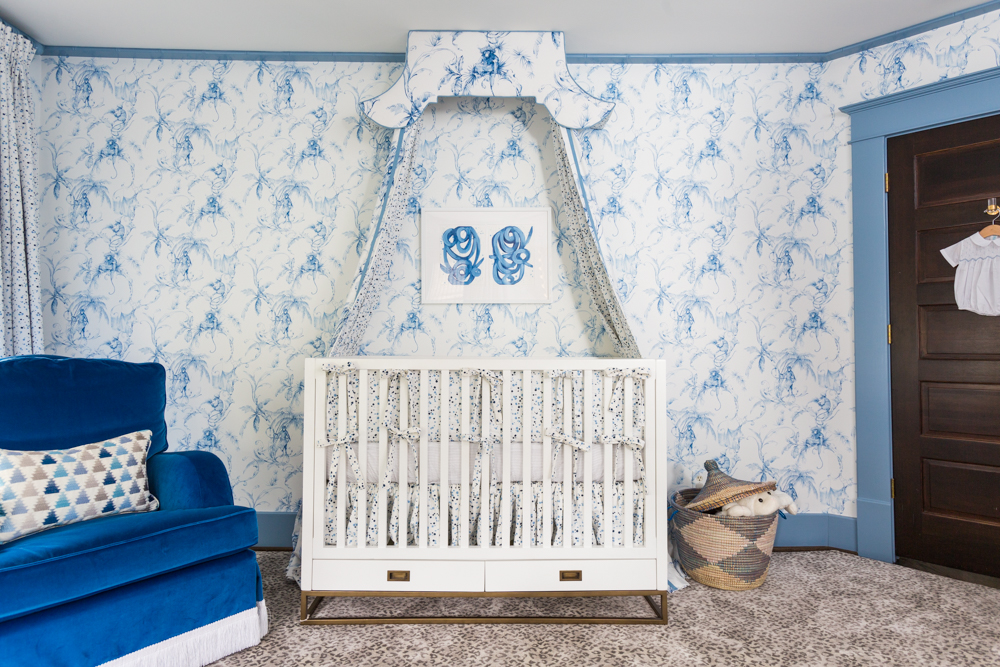 It is SUCH a thrill + joy to bring home a tiny new member of your family… I remember bringing each of my boys home like it was yesterday! So, in honor of these precious new bundles, this month I wanted to focus on colorFULL nurseries with tips on designing for little ones and how to keep functional style + dashing details top of mind!
Layout is Everything
Between diaper changes, feedings, naptime + coo sessions, you are going to spend a LOT of time in the nursery! Be sure to make it your favorite room in the house and, if possible, one that's as far away from the hubbub of daily living as possible. Then, get to work transforming it into a colorFULL world filled with inspiring treasures your babe will love!
Where to start? First, develop a FLOOR PLAN so you have a road map of where everything is going and what size pieces will fit best within that arrangement. This is a fun exercise in space planning and if you aren't hiring an interior designer to help you, there are plenty of online resources that will help you do it yourself!
A peek at one of our Creative Tonic nursery designs! Stay tuned for more on this Creative Tonics! We have something BRILLIANT coming your way VERY soon!!!
The ideal nursery floor plan should include:
*Build your room up from the bottom by starting with the rug or carpet, the crib, a dresser that doubles as a changing table, a rocker, a bookcase or wall shelves and a chandelier or flush mount ceiling fixture.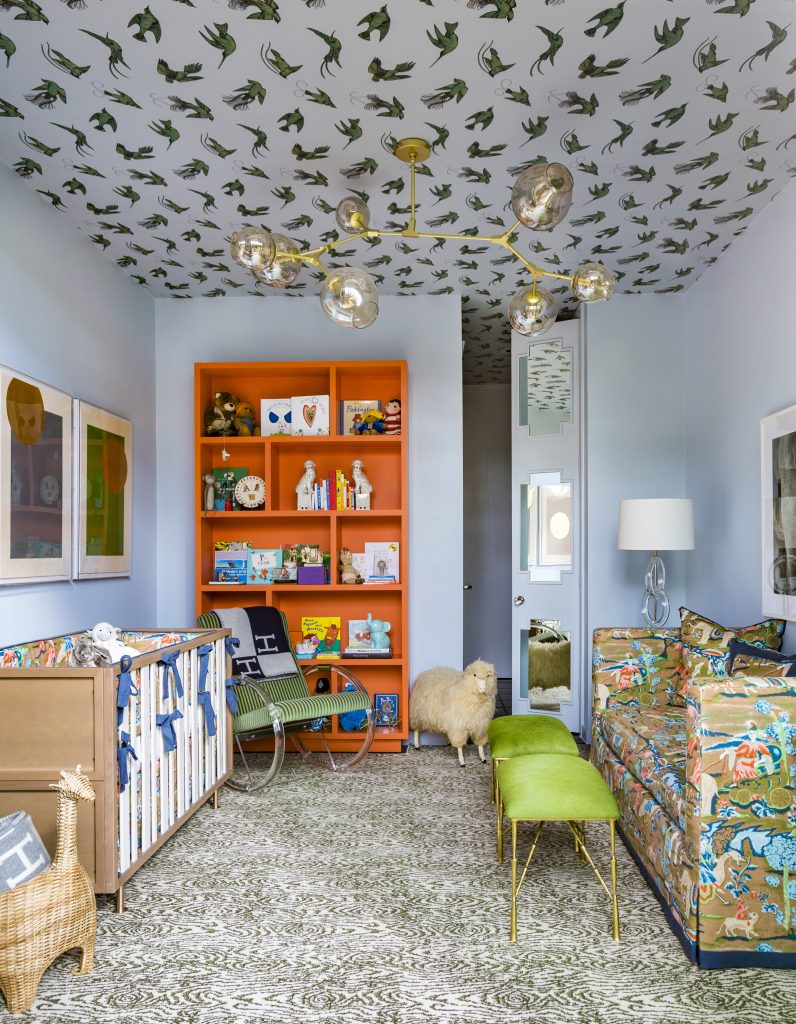 *It's fun to make the crib a focal point in the room with a whimsical canopy overhead or a special piece of art commissioned for the room… how fun for your baby to have an art collection that was started at birth (more on that later)!
*If you have room, a daybed is wonderful for those nights when you decide to sleep in the nursery and for family reading time. Also, adding an extra chair or family heirloom, in addition to the rocking chair, like the antique Victorian chair that was given to me by my grandmother below, so your partner or a visitor can join you during feedings and admire the little sanctuary you've created!
*This is one of my favorite storage tips – don't buy a boring changing table! Buy a chic dresser or refurbish a vintage one with ample storage for onesies, socks + blankets, put a changing pad in a custom acrylic tray for safety on top. Some even come with compartments to hold diapers and wipes…VOILA! You've got the most colorFULL changing table in town… not to mention this important piece of furniture can always transition to a big kid room later on.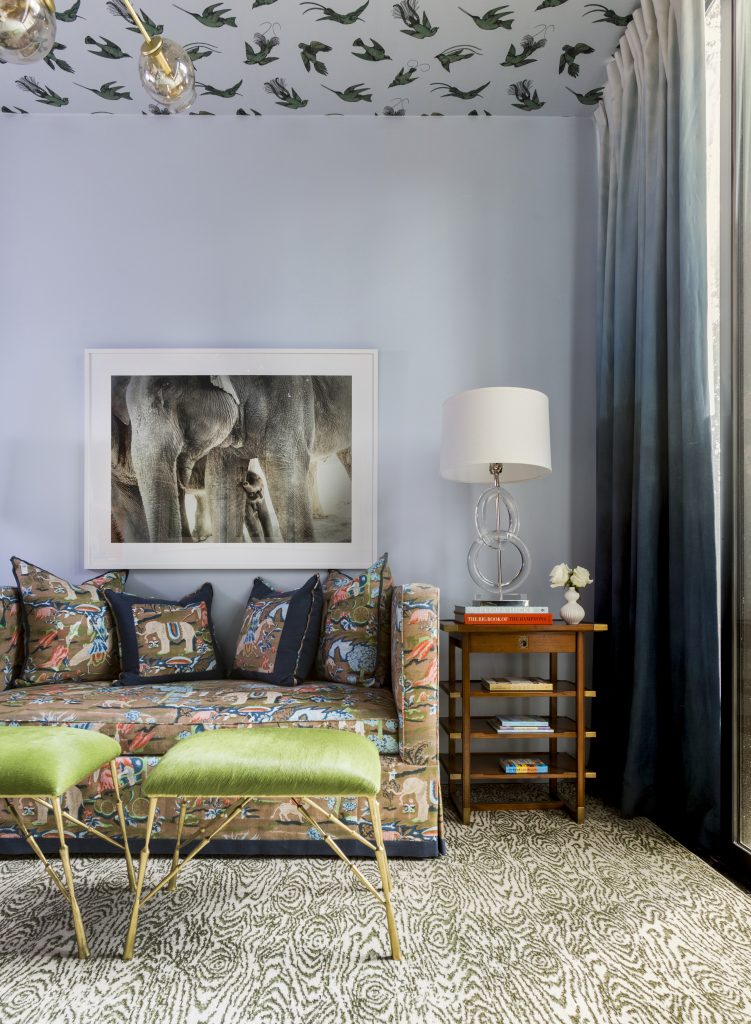 A Place For Everything + Everything In Its Place…
It's time to talk about THE EVER IMPORTANT BABY CLOSET…or as I like to call it…the JEWEL BOX of the nursery!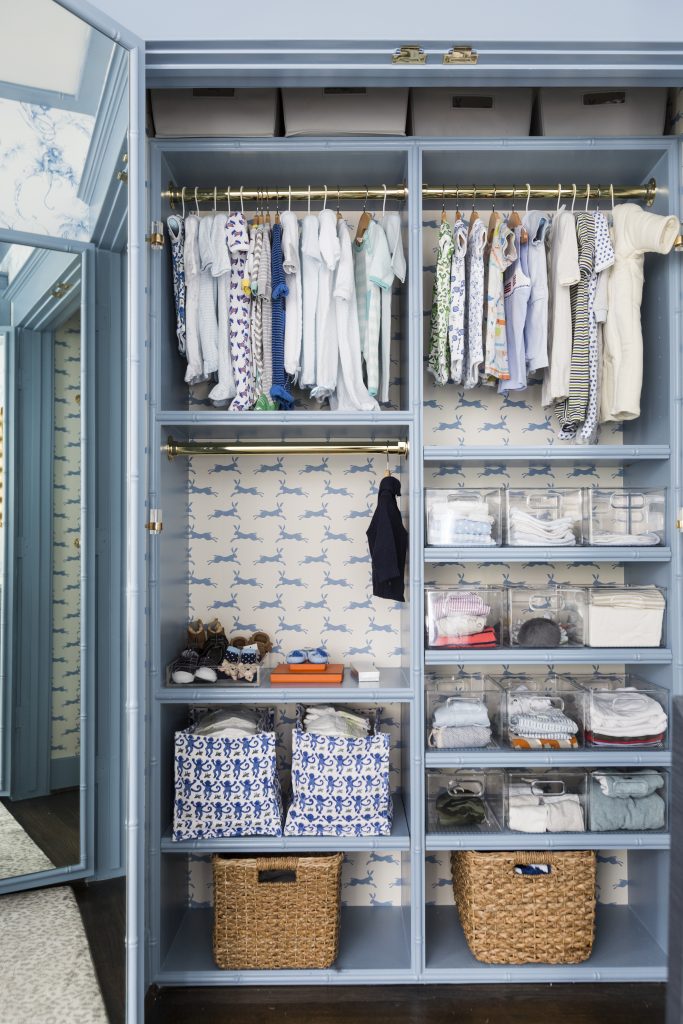 Any veteran parent will tell you that storage is EVERYTHING! Get organized + make the most out of every square foot your baby closet has to offer. Rearrange the rods! Baby clothes can fit on 3 rods rather than the standard 2 rods. You can also customize the closet with an arrangement of shelves for special nursery-fabric lined baskets and acrylic bins.
Once your closet is prepped, hang all of those teensy tiny adorable outfits using padded hangers in lively colors and patterns that complement your nursery. A baby closet is a wonderful place to use wallpaper too like these FABULOUS collections from KARIOKAS…with a limited amount of space it's a great way to splurge and not as expensive as wallpapering the entire room!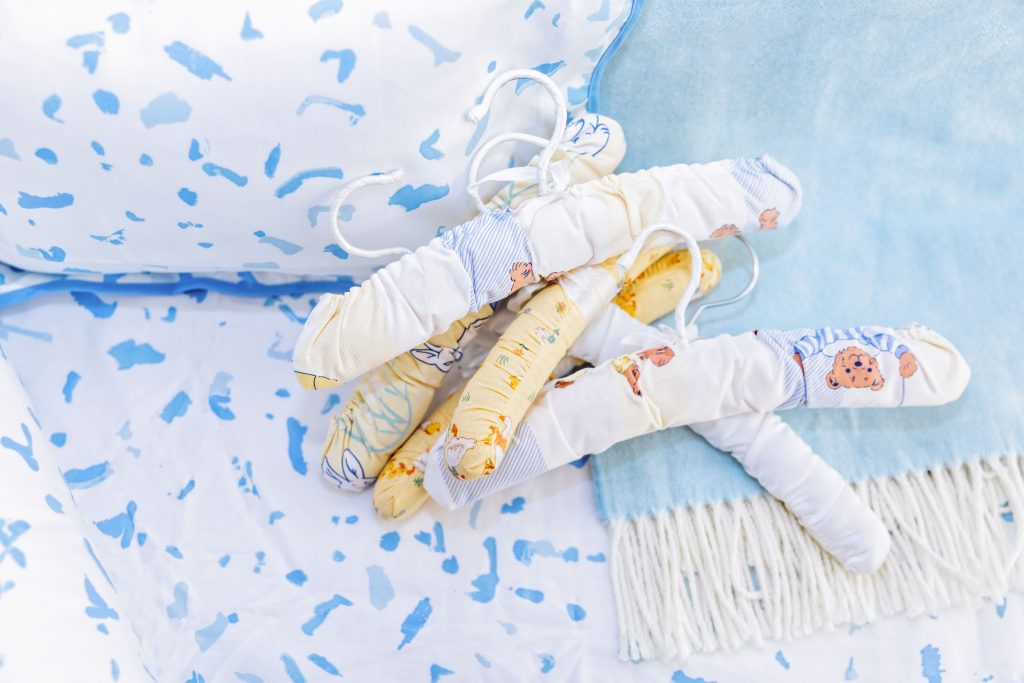 Speaking of baskets, I love creating little moments of magic by using the drapery fabric to line storage bins + baskets! It's a custom touch that pulls the entire space together!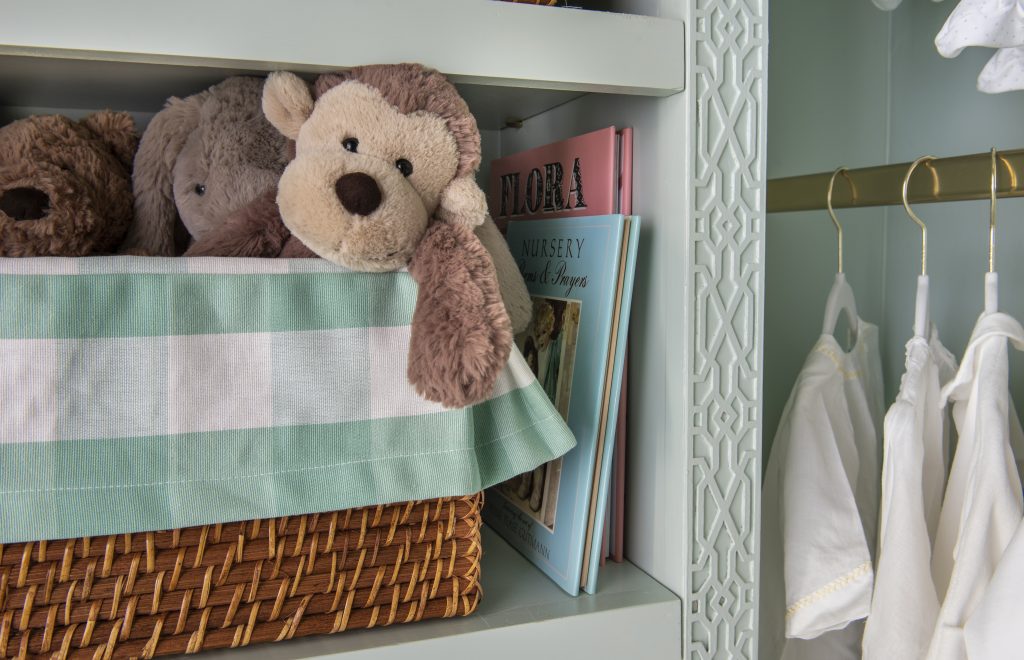 Finally, if your nursery budget doesn't include a tricked-out closet…engaging a professional to design your nursery closet is a GREAT baby gift idea from parents or in-laws! I had so much fun designing the mint green closet below and the gifted package was complete with custom fretwork detailing and shiny brass rods! There's nothing I love more than space planning AND giving, especially in areas you use every day. Imagine what a joy it is for this mother every time she opens the closet door!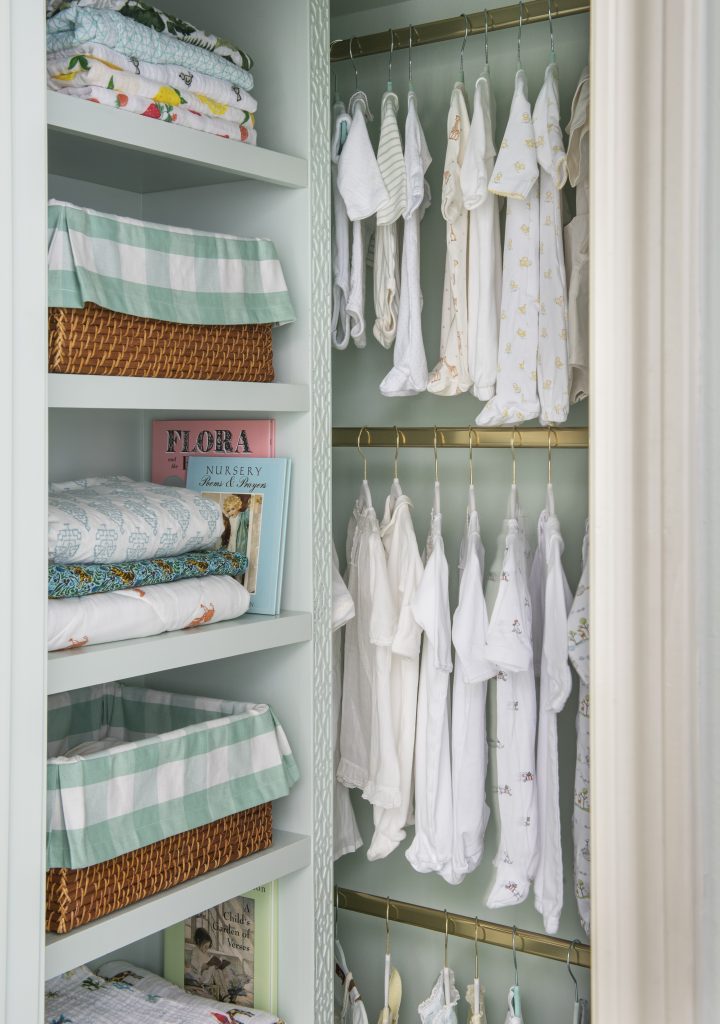 Let There Be Light (And Blackout Drapery)
As most parents can attest, newborns easily mix up their nights and days, which is not only a struggle for them but also for their exhausted mamas + daddies. Sleep is key for all parties + doing everything you can to mimic the natural cycle of night and day in your nursery will have baby (and YOU) on your way to restful evenings in no time!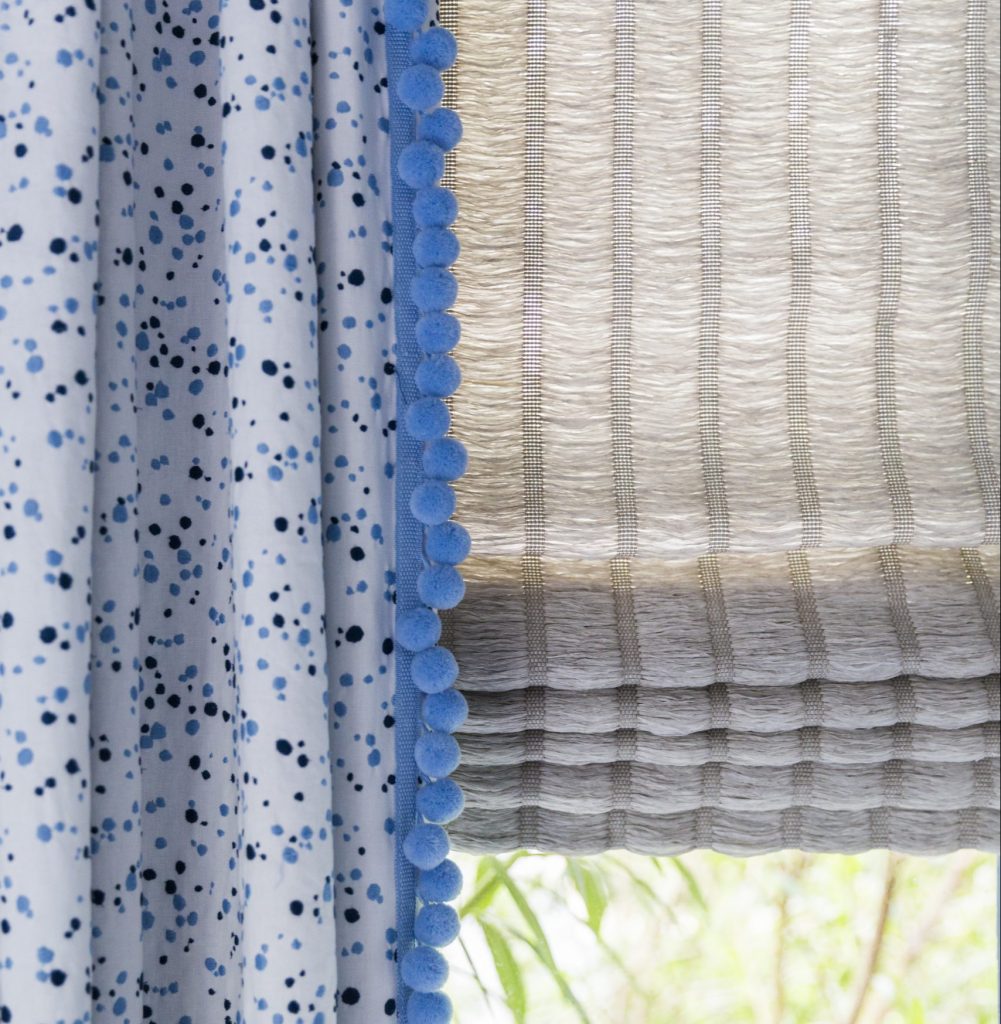 It may seem counterintuitive but mastering this concept is actually about layering in MORE light, not less. Multiple light sources allow you to pick and choose what you need depending on the time of day. Hang a funky chandelier (I love BRIGHT + BOLD pieces from Stray Dog Designs that make looking up from the floor during playtime even more enjoyable!), add lamps to each table + you can even frame up the rocking chair or daybed with sconces or a floor lamp!
Be sure each fixture is attached to a dimmer so you can custom-select the perfect light level for nighttime feeding sessions + diaper changes. If your lamps don't come with dimmers you can easily order them from Amazon and attach them just like you would an extension cord.
Last but definitely not least – drapery is crucial to light control! Maybe it's the bright Texas summers but BLACKOUT lining in your drapery panels are a MUST! You can add a blackout lining to custom drapes or purchase them built-in. Either way, they are TOTALLY worth the splurge!!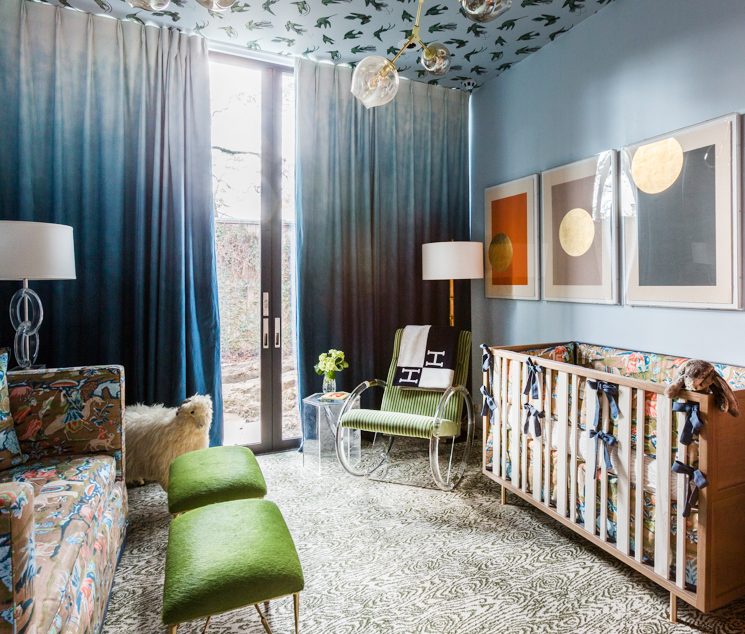 And if you're designing the ULTIMATE nursery, go all out with motorized window treatments that will block light at the touch of a button!
Start With Art
The nursery should be a SANCTUARY within your home! There are no rules here – fill the room with colors that bring you JOY + sentimental moments of grandeur!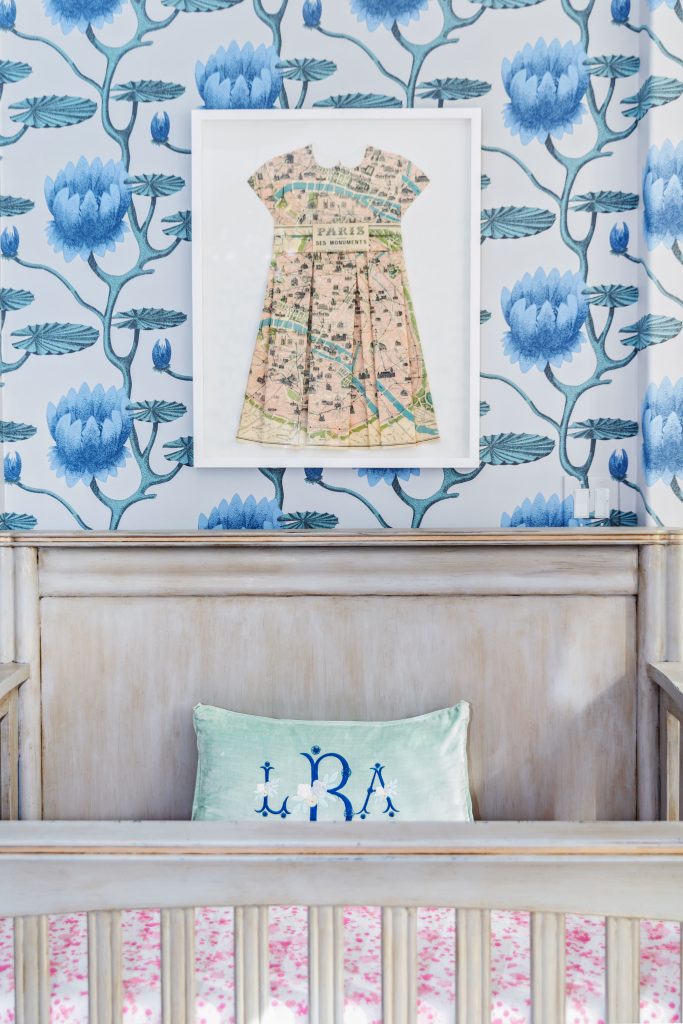 I love starting with a piece of art and allowing that to inspire the nursery's design + palette! Not only can you avoid a cliche' nursery theme but you will also be starting your child's very own collection of art before they even enter this big colorFULL world!!!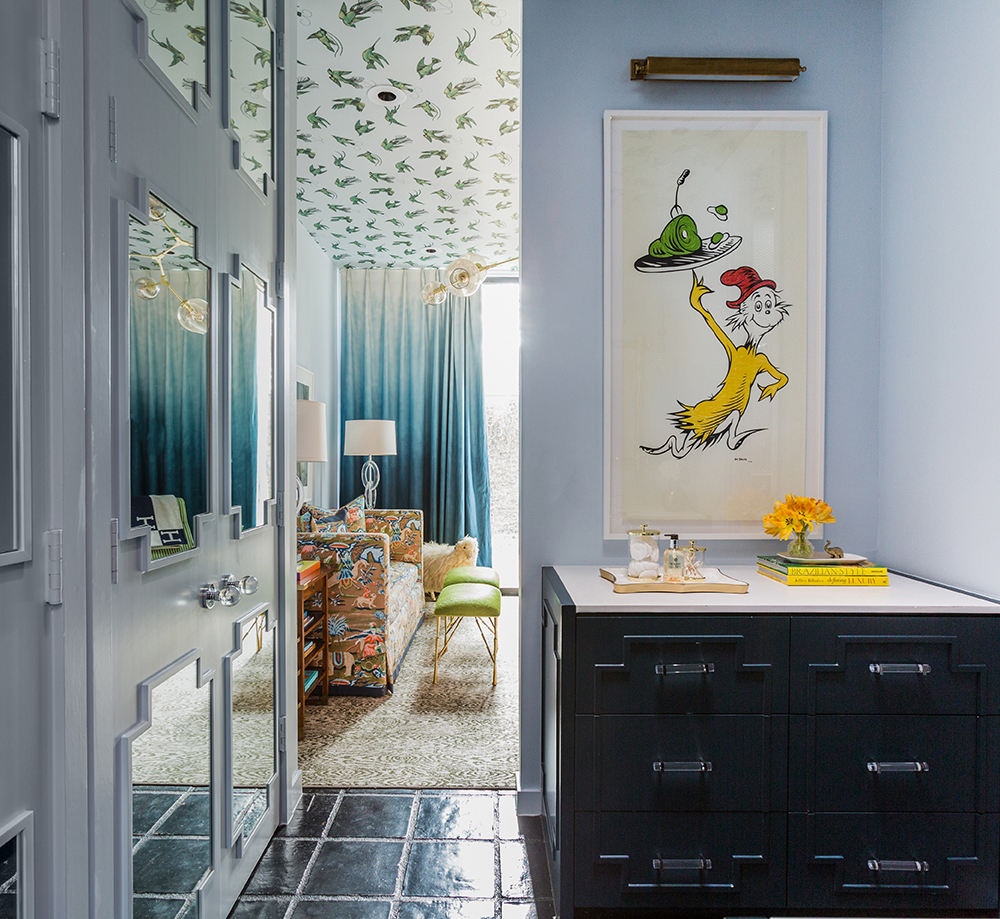 Pull colors and textures from that piece as a starting point and HAVE FUN!! Use bold wallpaper on the ceiling (or even in the closet – see my tips above), line the walls with more art or color-rich books + fill the room with hues that will ignite your little one's imagination!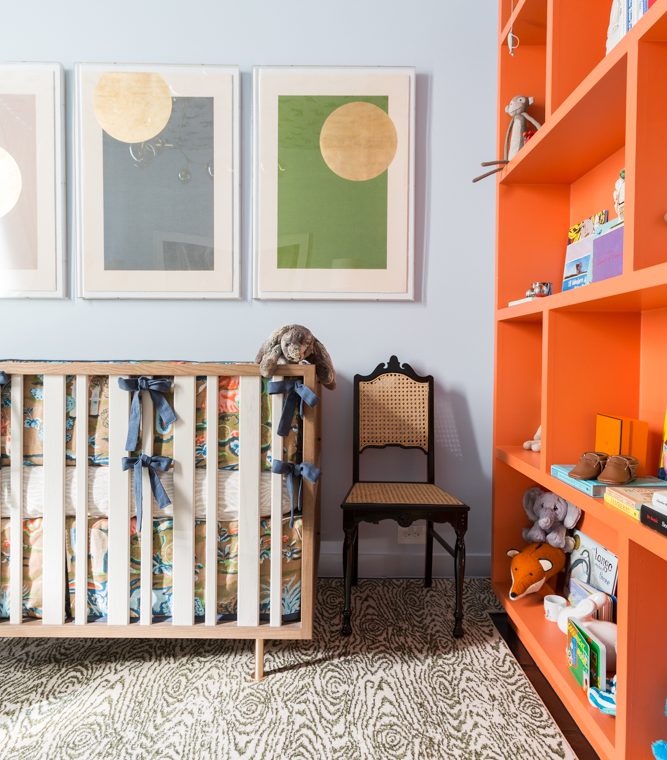 The WELL-Designed Nursery

It's important to note that a WELL-designed nursery is about so much more than fun precious little things…it's also a space that promotes peace and wellness for you and your baby!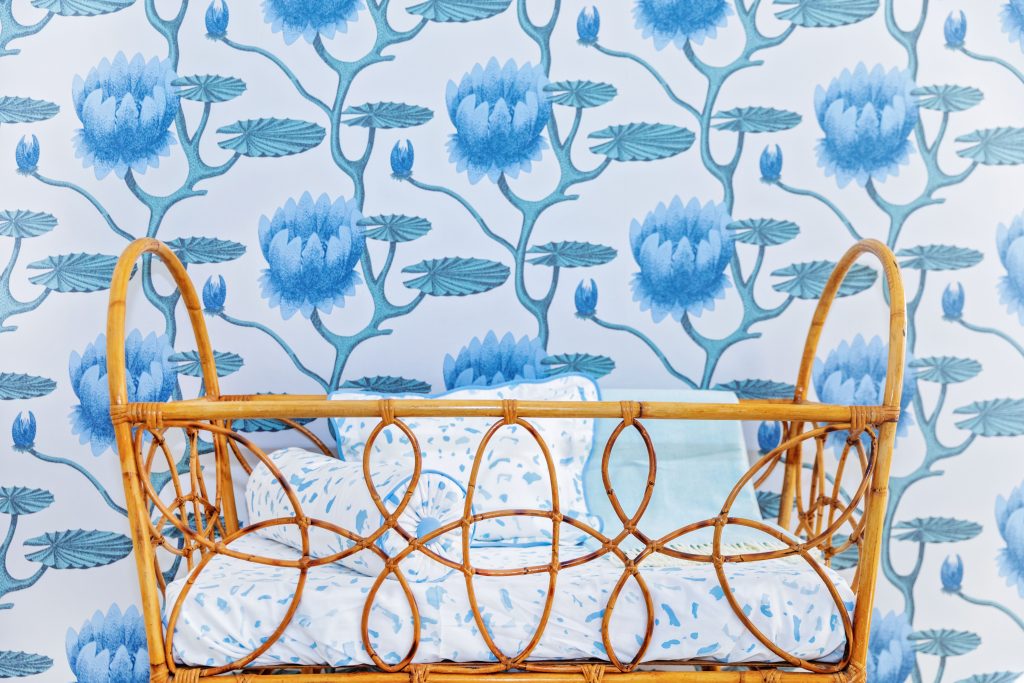 I warn clients to be careful of nursery items ordered through big-box stores and chains. By law, many mass-produced items, including carpets and crib mattresses, come with toxic fire-retardants, petroleum products and formaldehyde built right in. Many of these chemicals can impact your family's health and cause unpleasant side effects. So, whether you hire a designer or research on your own, be sure to study all of the soft goods and furnishings you plan to put in your baby's nursery.
Here are a few tips I always suggest to my mamas-to-be:
Look for GREENGUARD Gold Certified products when you're ordering furnishings or soft goods online.
Prepare the nursery EARLY so all new primer and paint have a chance to off-gas before baby arrives. Even better, use non-toxic zero-VOC paints if possible!
Use natural wool rugs and untreated carpets.
Use natural fiber fabrics like cotton and linen for drapery and upholstery. It's tempting to want to use durable indoor-outdoor fabrics on rockers but keep in mind that many of these are treated with chemicals or they could contain acrylic fibers. Do your research, mamas! There are MANY products out there that pass all federal flammability standards without fire-retardant chemicals!
Wash EVERYTHING that will touch your baby with hypoallergenic detergent, not JUST the onesies and jammies, but the sheets, towels and blankets too.
Thoroughly clean all vents and air conditioning duct work, especially if you live in an older house. This is something you can do yourself with soap and water and a little daddy-to-be elbow grease.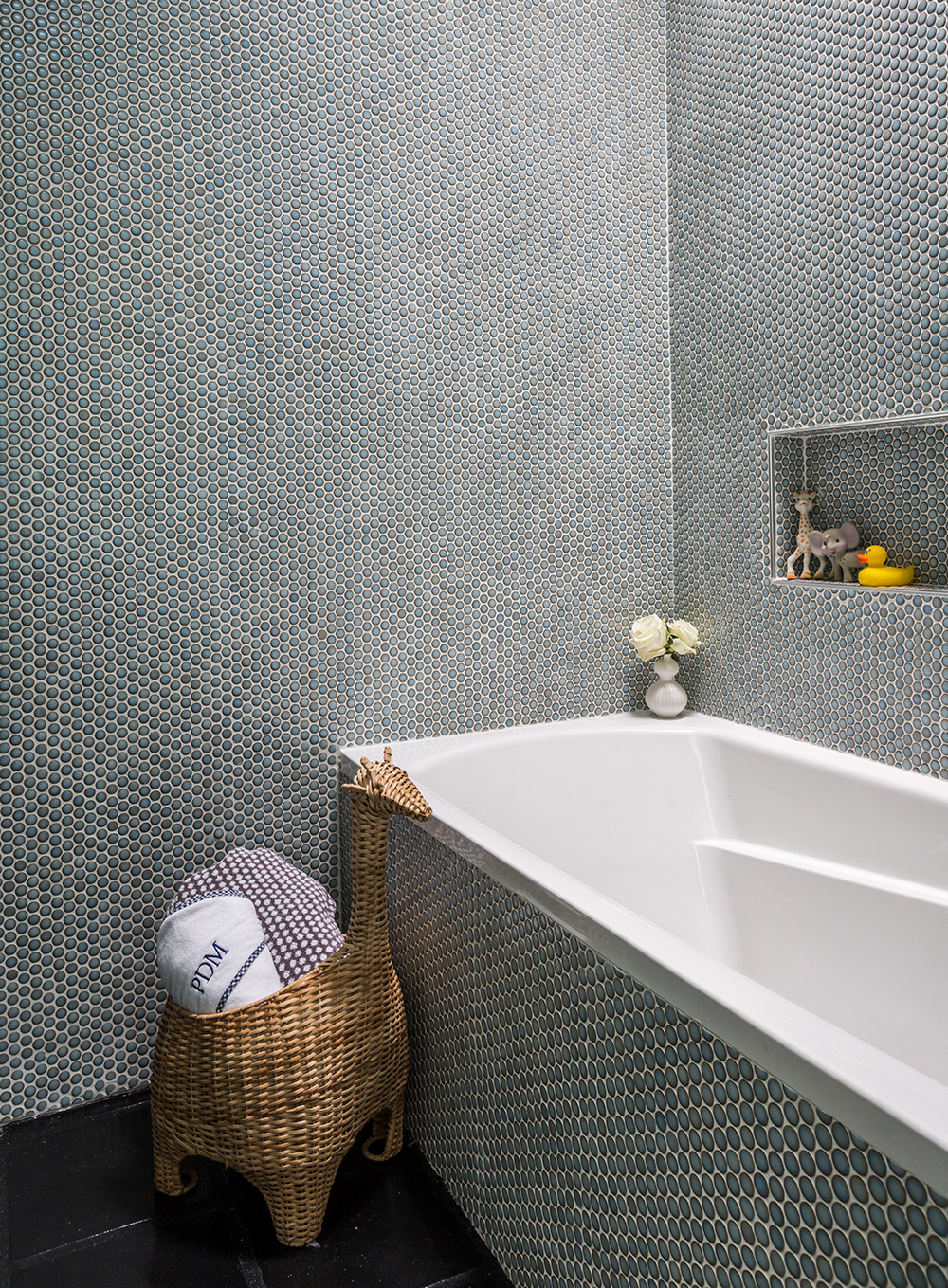 Moments To Remember
Before I go, I have to share a few special little tidbits! Remember when I said I'd get to those pearls in just a bit? Here we are!! I wore the same pearls for the delivery of all 3 of my boys + they're in the picture you see below. They serve as a treasured keepsake from those very special days in my life + and I look forward to gifting them to a daughter-in-law or granddaughter one day who may like to carry this tradition forward!
When it comes to documenting your little one's journey through this colorFULL world, your cell phone will be working overtime but don't forget to pick up a keepsake baby book!!! The days fly by + you will be so delighted that you took the time to save a locket of hair, note their first word or first lost tooth + so much more! Heirloom quality baby books, like the one below from Shop The Avenue, are also the perfect place to keep handwritten notes to your child that can be read when they get older.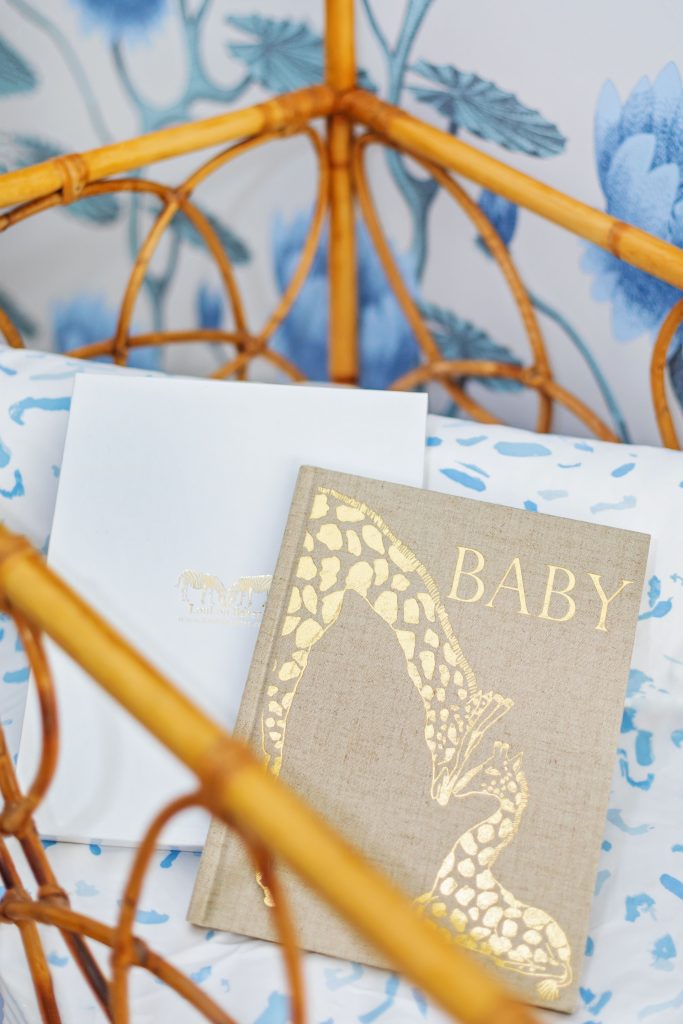 Last but not least, who doesn't ADORE those monthly milestone cards?! Babies grow SO fast + it's such a blast to see their development month-by-month!
Okay, the time has come to take a step back, close your eyes + imagine a day spent with just you + your baby. Is there anything missing? A plush rug to roll around on or some additional shelving for keepsakes? It's time to finalize all of those little details. Install your baby monitor, hang that adorable hooded duck towel in the bathroom + breathe deep. The big day will be here soon!