It is getting HOT here in Houston + you know what that means…SUMMER has arrived!!! With kids wrapping up the school year + travel on the horizon, the city is vibrating with FUN + EXCITEMENT!!! 
I'm kicking off the summer with several new-construction projects + I have some serious KITCHEN thoughts going on right now! I don't know about you, but when we aren't traveling during the summer, we're entertaining friends and family + that means our kitchen sees a lot of action! Today, I'm thrilled to be dishing up kitchen tips + tricks plus ways you can make your kitchen a more colorFULL place to gather + have fun!! Enjoy!
Embrace Catering Kitchens
In late April, I was invited to participate in the most lovely Texas Design Week conversation about how to achieve the PERFECT kitchen with chefs Robert Del Grande + Chris Williams and Hospitality Designer Gin Braverman!!! Moderated by the amazing Laurann Claridge (do you know about her stylish shirts?) + hosted by Monogram Luxury Appliances in the state-of-the-art CookChill showroom, we had such a grand time + I'm sharing a few of the fun tidbits we discussed here! 
 The open concept kitchen still reigns supreme even though I am seeing more + more separation among spaces in the home. But what about those of us who love an open concept but also require more storage, more space for prep + more? Enter catering kitchens … one of my very favorite trends + makes me think I need a complete kitchen overhaul!! Consider catering kitchens your behind-the-scenes workhorse complete with a second set of appliances + added storage for serving ware + entertaining pieces for special occasions. 
One idea I have been playing around with is considering a catering kitchen design that also doubles as a butler's bar – a concept I know we all ADORE!! The glorious green butler's bar I'm sharing here was actually featured in House Beautiful's Incredible Kitchens + it's a lovely example of how a highly utilitarian space can also be beautiFULL + colorFULL!!! 
Go WILD with COLOR
Another fun idea for kitchens of EVERY kind is to go WILD with colorFULL appliances or to customize appliances with unique knobs, trim, or even paint!!! In my own kitchen below, Segreto Finishes  painted a custom mural across the front of my refrigerator that brings me joy every time I open it!! A kitchen is the perfect spot for vibrant stand mixers, decorative bowls + even a brightly colored refrigerator!! Be sure to keep scrolling because I'm sharing a few of my favorites below!!
The market has so many new appliances + kitchen tools that are sure to speak to your inner chef!!! From pizza ovens to undercounter freezers with a rack for martini glasses to colorFULL appliances (Read: Lacanche Ranges + True Refrigerators), the options are limitless. If you can dream it up, it can be done, so DREAM BIG!!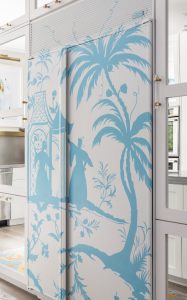 Get Glossy
Polished marble will ALWAYS be my favorite but don't forget about all of the new + incredibly durable countertop materials like manmade stone!! I absolutely adored working with Cambria when crafting the bar in my Kips Bay Designer Show House Moulin Rouge Media Lounge!! I highly suggest leaning in to the material + choosing something simple rather than choosing a manmade product tries to mimic the look of marble or another natural stone. Another FUN countertop idea I'm LOVING right now: stainless steel countertops with a marine edge!!! Picture a commercial kitchen with stainless steel countertops that have a raised lip to prevent liquids from running off…very cool + very functional!!!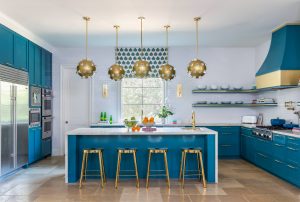 We can't possibly chat kitchens without mentioning the jewelry of the room … the LIGHTING!! Lighting is such a wonderFULL way to weave personality into your kitchen + it doesn't stop at pendants, although I do LOVE a statement piece. Consider installing a chandelier in your kitchen + you can even add dimmers so that you can adjust lighting for any situation!! Another area that's begging for a lighting upgrade are your drawers + cabinets!! Illuminating these hardworking areas means you'll never have to search aimlessly for that missing spatula again!!
Last but not least, remember that kitchens are a fabulous spot for incorporating all things shiny, Creative Tonics!! Whether it's installing a mirrored backsplash or cabinet door inserts, lacquering your cabinets, walls, or ceilings, or going ALL IN with the aforementioned stainless steel countertops, getting glossy is a spectacular way to have some fun in the heart of your home!!
Allow Art to Steal the Show
You KNOW how much I love art, Creative Tonics!!! So many people feel like they can't hang art in their kitchens, but I'm here to say that that you absolutely CAN + you absolutely SHOULD!! Art has the power to evoke memories + bring joy – why wouldn't we want more of that in a space we use all day long? Consider foregoing the installation of upper cabinets in one area of your kitchen (who can reach them anyway?!) so that you can add colorFULL artwork instead!! This is an idea that I love so much that I even did in my own kitchen!!!
Get Shopping
Now that we've covered ALL of my FAVORITE kitchen tips + trends, shop away!! Oh, and don't forget to pop over to my Amazon store where I'm sharing lots more in my ColorFULL Kitchen edit!!!