Glitz and glamour are the things DREAMS are made of, Creative Tonics + there's NOTHING more glamorous than awards season!! You know I LOVE hosting a FABULOUS party, for any reason or no reason at all, so the upcoming Oscars® are a PERFECT fit for my fete-loving inner-entertainer to SHINE. I know we're ALL feeling a need to get TOGETHER, CELEBRATE (find joy where you can, Creative Tonics!!), and ENJOY the company of one another. In that spirit, I'm sharing some of my tips for hosting an AWARD-winning bash, equally applicable to the Oscars® or ANYTHING else you want to celebrate!!
GENRE IS GOLD
Choose a theme, but don't go too theme-heavy! Gold, glitter, glitz, old-Hollywood and GLAMOUR are big winners in my book + we ALL know I love a good theme!! Be CREATIVE + practical – look through the décor already gracing your home to design a party-worthy setting. Perhaps you've got coffee table books relating to Hollywood, movie stars of old, or even the topics or locales of this year's nominees (Belfast, The Tragedy of Macbeth, West Side Story + Being the Ricardos are a few that are FULL of inspiration!!) … Or pick a costume design nominee and channel that ARTISTRY in your theme! Add candles + flowers and the ambience will be swoon-worthy!!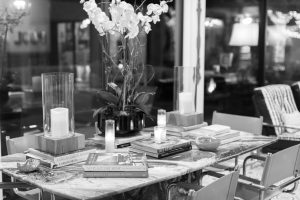 CREATIVE COCKTAILS + CHAMPAGNE + CANAPES…
are a MUST!! Mocktails, cocktails and champagne are FULL of the spirit of Hollywood! My favorite go-to is a good glass of BUBBLY, but for the mixed drink lovers in your movie-going crowd, get in the spirit with a Hollywood Martini or a French 75!! Serve in stunning glassware or add a golden cocktail pick + you'll be the darling of the PARTY!! (Bonus points to the French 75 that you can mix for a crowd ahead of time + add champagne as you serve!!) There's no time like the present to use the GOOD stuff, so break out the crystal and ENJOY!!
Serve up an ELEVATED movie experience with candies and gourmet popcorn in DELICIOUS dishes, add in some appetizers or your go-to hors d'oeuvres + you're set!!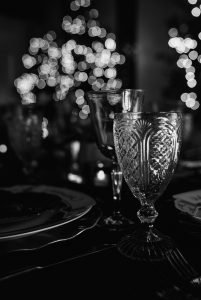 DRESS THE PART
Whether you're in the mood for full-on cocktail attire or want to recreate your favorite red carpet looks from the past, set the mood for the evening with the dress code!! And TRULY, everyone LOVES an excuse to dress up these days, after a couple of years of athleisure at the forefront!! One of my FAVORITE memories is the Oscars party some dear friends used to host at Brennan's here in Houston where the men wore tuxes + the women dressed up as their favorite movie star. I certainly had a BALL channeling my inner Audrey Hepburn!!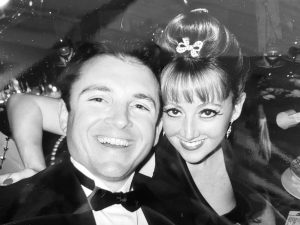 GOLDEN GIFT
One of my favorite parts of hosting any SOIREE is the goodie bag + Hollywood is the KING of swag!! Send your guests home as the credits roll with a small bouquet adorned in glittering ribbon, or with statuette iced sugar cookies!! Small or large, the BEST gifts are the ones that are useful (or edible)!! Be CREATIVE, the sky's the limit!! When it doubt, the classics are always winners!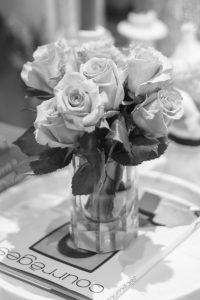 Use these tips to host a FABULOUS film fete, or keep them in your back pocket for the next celebration you've got on deck. In the meantime, I've rounded up some of my MOST favorite golden-hued items to bring that GLOW to your closet + your home!! Happy hosting + shopping, Creative Tonics!! You're ALL winners in my book!!
PS: On the next ColorFULL Living blog, I'll be answering all of YOUR questions!! Look for the question box on my Instagram + be sure to ask away!! Curious about what inspires me, my favorite paint colors, fabrics, my start in interior design, or really, anything about how my ColorFULL mind works?! Ask me!!